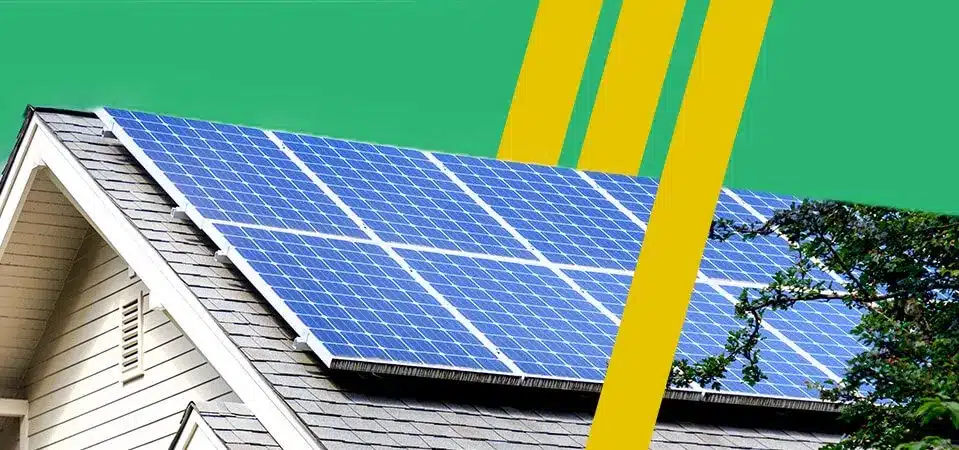 Installing solar panels in your home or business can be taxing on your wallet. With the help of rebate programs in North Carolina, like those from Duke Energy, going solar can be more affordable. And the time to make the switch is now while these programs are still around.
The Duke Energy Progress Solar Rebate is a one-time rebate payment introduced in 2018 and has helped many households transition to clean, sustainable and completely renewable solar power. 8MSolar has years of experience navigating the fine details around this rebate and can help you increase your odds of getting the Duke Energy Rebate in NC.

Learn how you can benefit from this solar rebate program and how 8MSolar can help you. By the way, the same applies to Duke Energy Carolinas as well, and they offer the same Duke Energy Rebates NC net metering policies and the same solar program and solar rebate. The difference is that DEC serves the western part of the state, whereas DEP serves the eastern part of NC.
DUKE SOLAR REBATES NC: WHAT IS IT?
The Duke Solar Rebate NC program brings massive savings to residential, commercial and non-profit customers. This solar rebate can help make solar energy more affordable for anyone interested in solar energy. You can see savings of up to $4,000 for residential customers, $30,000 for commercial customers and up to $75,000 for non-profit entities. The rebate is offered through a lottery-type system. This means you may have a higher chance of receiving the rebate than you did in past years when the rebate was given on a first-come, first-serve basis.
Further complicating the rebate acceptance is that unused capacities from the non-profit or commercial rebate pool will also be transferred to residential customers in subsequent years. Therefore, being on a waitlist does not mean it will never move, and you won't get the Duke Energy solar panel rebate. In addition, if the system is installed and commissioned through the meter replacement stage within 90 days of the new year, the owner is eligible to file for the rebate bucket for the following year!
Homeowners and businesses are eligible for additional savings on top of the Duke Solar Rebate. The federal government offers the Solar Investment Tax Credit in an attempt to increase interest in clean energy solutions. This is a 30% tax credit for homeowners and companies who install solar panels on their property.
When should I apply?
Duke Energy opens up applications for this rebate twice a year — in January and July.

The Duke Energy Progress Solar Rebate has become extremely popular, so the time to prepare your application is now. Our solar consultants at 8MSolar can help guide you through the process to ensure you are completely ready when the enrollment period opens again. Getting your application in before the deadline is vital to ensuring your chance of being chosen for the Duke Energy rebate.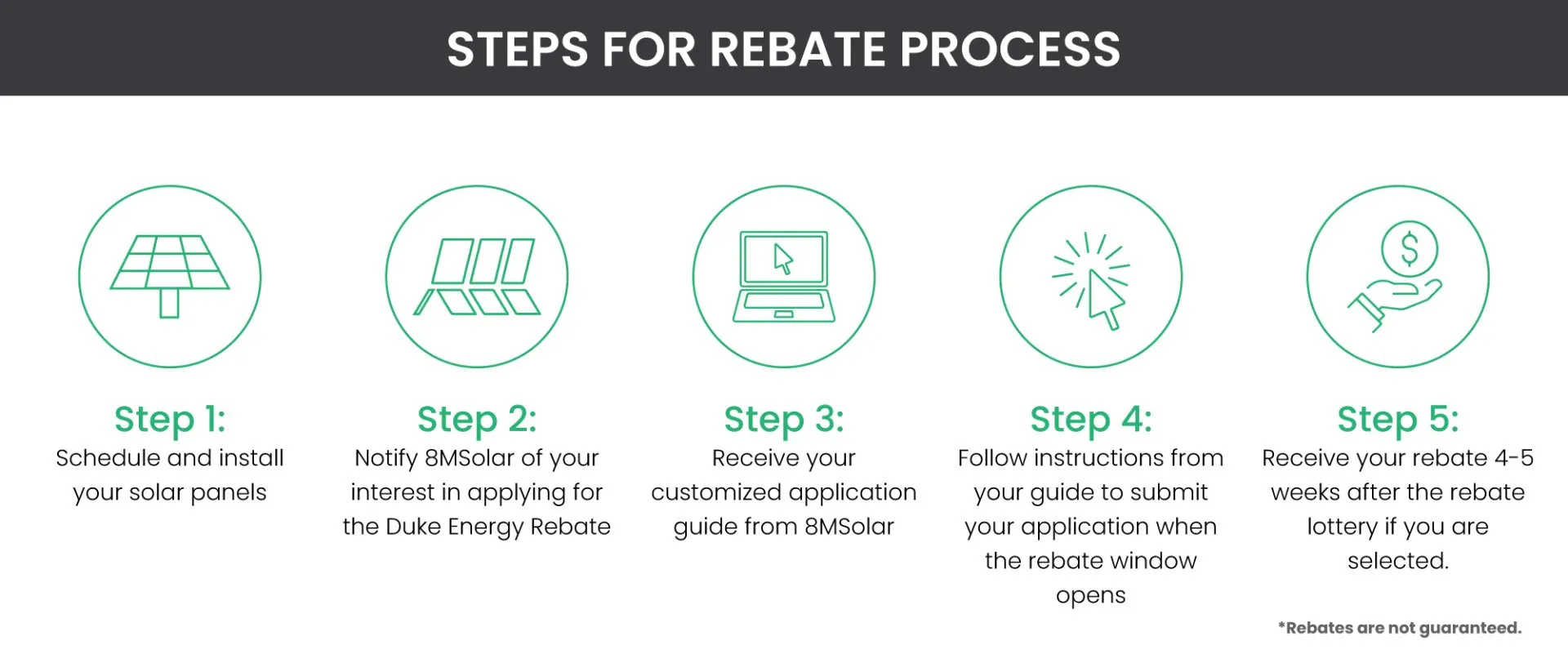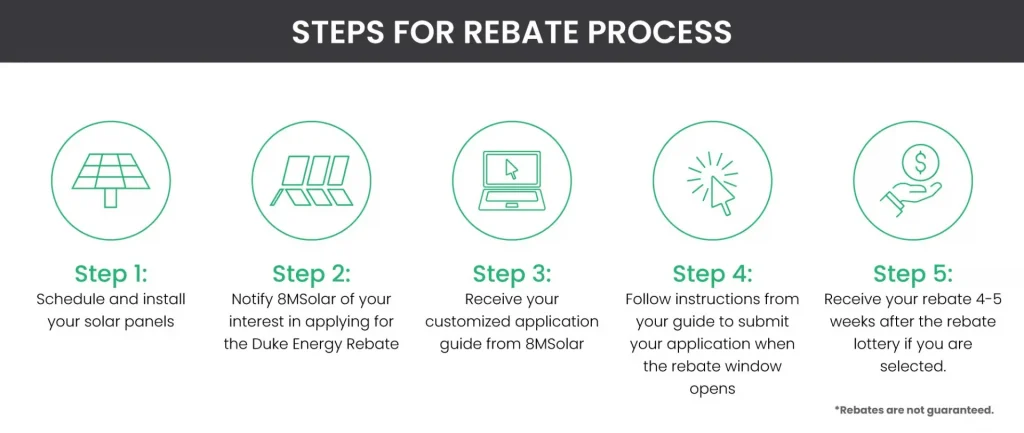 Steps for Rebate Process
If you're considering applying for the Duke Energy Rebate, follow these steps carefully to ensure your application is submitted with the proper information:
Step one: Schedule and install your solar panels
Step two: Notify 8MSolar of your interest in applying for the Duke Energy Rebate
Step three: Receive your customized application guide from 8MSolar
Step four: Follow instructions from your guide to submitting your application when the rebate window opens
Step five: Receive your rebate four to five weeks after the rebate lottery if you are selected
Increasing your odds of securing the Duke Solar Rebate
Knowing how to apply for the Duke Energy solar rebate can be confusing. 8MSolar consultants can help you maximize your chances of securing this rebate by installing your solar panel system according to specific timelines. We also provide unique application guides for each client. These guides drastically reduce application time and can help you be one of the first few people to file for the rebates.
Contact us to see how we can help maximize your chances of securing this rebate. We have helped countless residential, commercial and non-profit entities secure this rebate to help them go solar! 8MSolar recommends being wary of any installer guaranteeing this rebate because there is no guarantee of getting the Duke Energy solar incentives. Please reach out to one of our experts to help determine your eligibility and increase your odds of getting this rebate.
To summarize, there are a lot of variables with this rebate. Our solar consultants will be able to guide you properly on all available rebates and incentives for your area. We offer personalized step-by-step guides to each customer looking to apply for Duke solar program incentives. Our customers are the most prepared to apply for this rebate.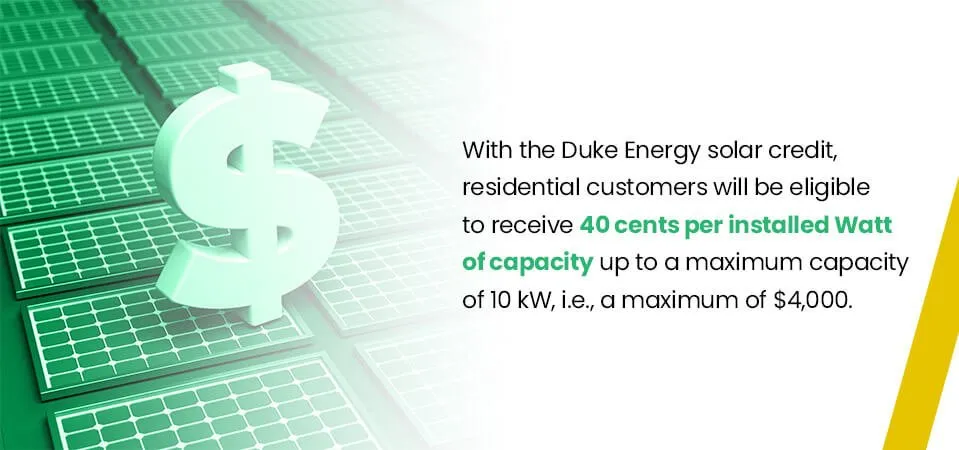 This rebate will make solar installations even more affordable for Duke customers. For many customers, shopping for solar system installation in North Carolina is a significant investment and this rebate will help lower initial costs. This program aims to expand North Carolina's private solar panel systems from around 6,000 to over 12,000 in the next five years. With the Duke Energy solar credit, residential customers will be eligible to receive 40 cents per installed Watt of capacity up to a maximum capacity of 10 kW, i.e., a maximum of $4,000. For example, our customers who install a solar PV system sized at 8 kW will be eligible to receive up to $3,200 back!
| | | | |
| --- | --- | --- | --- |
| | Residential Customers | Commercial Customers | Non-Profit Customers |
| System Size: | Up to 10,000 kW | Up to 100,000 kW | Up to 100,000 kW |
| Rebate Amount: | 0.40 per watt | 0.30 per watt | 0.75 per watt |
| Maximum Rebate: | $4,000 | $30,000 | $75,000 |
Commercial and non-residential customers will be eligible to receive up to 30 cents per installed Watt of capacity up to a maximum capacity of 100 kW. This means up to $30,000 back on the initial cost! When combined with MACRS depreciation, solar will now be a no-brainer for most businesses. Non-profit customers get an even bigger rebate. Entities such as churches and schools are eligible to receive 75 cents per installed Watt capacity up to 100 kW. This is up to $75,000!
Frequently Asked Questions About the Rebate
Some people still have lingering questions about the rebate and need further information. Below, we'll take you through some of the most common questions about the rebate so you can gain a deeper understanding of how it works and how you can benefit:
1. Will I Need to Install My Solar System Before Completing an Application?
The good news is that you don't have to wait until your solar system has been completely installed to start your application. However, you will need your project ID, which will be provided once you've submitted an interconnection request.
Once you submit your application, you'll receive an email letting you know if your application was accepted, and if it is, you can continue with your installation process. You can also apply for the rebate if you've installed your system 90 days before the enrollment start date, but not after.
2. Can I Apply for the Rebate Multiple Times?
Since the rebate is a one-time payment, you can only apply for the rebate once. You can also only submit and application during the open enrollment period.
3. Can I Apply After the Application is Closed?
In some cases, the enrollment period may end before a specific customer class reaches its limit for allocation of the rebate. The rebate can reopen to allow more applications, but this generally only happens for non-profit organizations, as these applications don't often reach capacity. Instead, it's essential to stay on top of the application process and watch for deadlines to ensure you can submit yours as soon as possible.
4. If I Receive a Rebate, When Do I Need to Redeem It By?
If you received a rebate for the July 2022 application, you'd need to complete your solar installation by December 15th, 2022. However, there are exceptions.
Non-profit projects that plan on installing a system over 20kW will have a full calendar year to install their solar system after Duke Energy issues the rebate. The same applies to non-profit customers installing a system less than 20kW without an interconnection agreement.

The Duke Energy rebate will go fast, so applying quickly is essential. This year is also the final year you can apply, so take advantage now!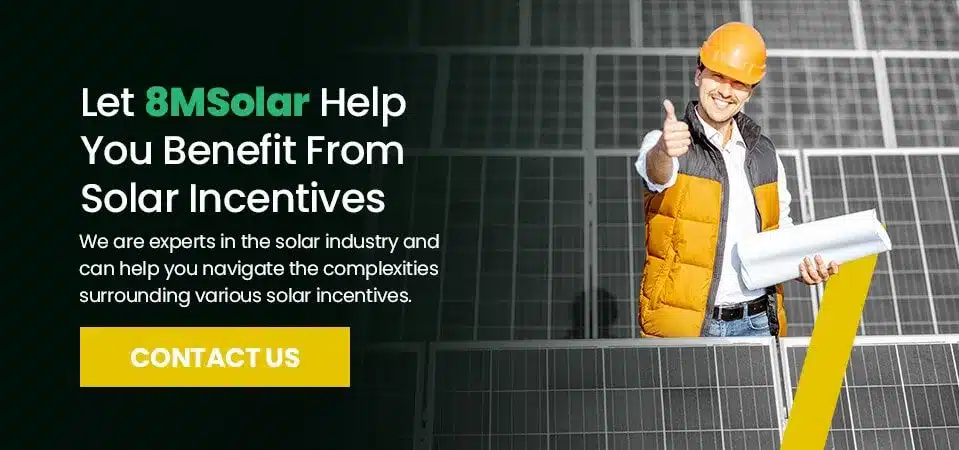 Let 8MSolar Help You Benefit From Solar Incentives
8MSolar professionals are here to help you understand how this rebate can affect your residential or commercial project. We will help you bundle this rebate with the Federal Tax Incentive to cut up to 55% off the cost of going solar!

We are experts in the solar industry and can help you navigate the complexities surrounding various solar incentives. We can also assist you with installation, repairs and regular maintenance to ensure your solar panels serve you for a long time. We're here to help you through every step of the way. Contact us today to find out how you can save thousands of dollars on your solar installation.