Trina Solar Overview
Trina Solar is a top-tier global company that makes affordable, reliable solar panels. In recent years, they've introduced innovative products like the Vertex panels. These panels are almost as efficient as those from the most expensive brands.
Quick Facts about Trina Solar Panels
Power range: 370W to 670W
Efficiency: Really good, between 19.8% and 22.5%
Cell type: P-type and N-type TOPCon
Cost: Fair, leaning towards affordable
Top-selling panel: Vertex S 415W
Warranty: Strong, from 12 to 30 years
Customer service rating: 4 out of 5 stars
Background on Trina Solar
Trina Solar is among the world's top five companies that make solar panels. They have been in the game since 1997, making them one of the oldest in China. They're big on innovation, having set 18 records for solar tech. They sell their products in over 30 countries.
Trina Solar is recognized as a Tier 1 solar panel manufacturer by Bloomberg New Energy Finance. However, it's important to highlight that the Tier 1 status mainly indicates a company's financial strength, which is crucial for big projects that need long-term reliability and viability.
Trina Solar mainly competes on performance and value. While they don't usually go head-to-head with top-dollar brands like Sunpower (from the US) and REC (from Singapore), they do have some high-end offerings. For example, their Vertex series, especially the ones with N-type TOPCon cells, are super powerful, with some models exceeding 600 watts. Their latest, the Vertex S+ series, even approaches 22% efficiency, making them just as efficient as some of the best out there.
Trina Solar Panels
Trina Solar makes a wide variety of solar panels. They incorporate a lot of the newest tech to do this, like multi-busbar PERC cells, big 210mm third-cut cells, and the newer high-density panels that use N-type TOPCon monocrystalline cells.
The Different Types of Panels
Honey 350 – 380W: Affordable option.
Vertex S 405 – 430W: Good residential panels that offer value.
Vertex S+ 410 – 450W: Top-notch panels for homes with higher efficiency.
TallMax 430 – 450W: Commercial panels.
DuoMax Twin 430 – 445W: Two-faced panels (called bifacial) for big energy projects.
Vertex N 670 – 700W: Super advanced bifacial utility panels.
The Vertex series is the most popular for homes. The older Honey series, which is easier on the pocket, is still around for those who want it. For big businesses and large-scale energy projects, Trina has panels that can handle high voltage and are even bigger in size, like the TallMax and DuoMax. These panels can be over 600W in power. There are also some specialized panels that have a dual-glass design and offer a 30-year performance guarantee.
The Vertex panels use Monocrystalline PERC cells, which are packed densely with multi-busbar (or MBB for short) connections. This helps them get efficiency rates up to 21.3%. They are one of the first panels to use the big 210mm cell size and cut them in a unique way, cutting them into thirds instead of halves. These high-power Vertex panels are pretty big, measuring between 2.1 to 2.3 meters in height and 1.10 to 1.35 meters in width. That's a lot bigger than older commercial-sized panels, and they are primarily meant for big solar energy projects.
Vertex S 405W – 430W Panels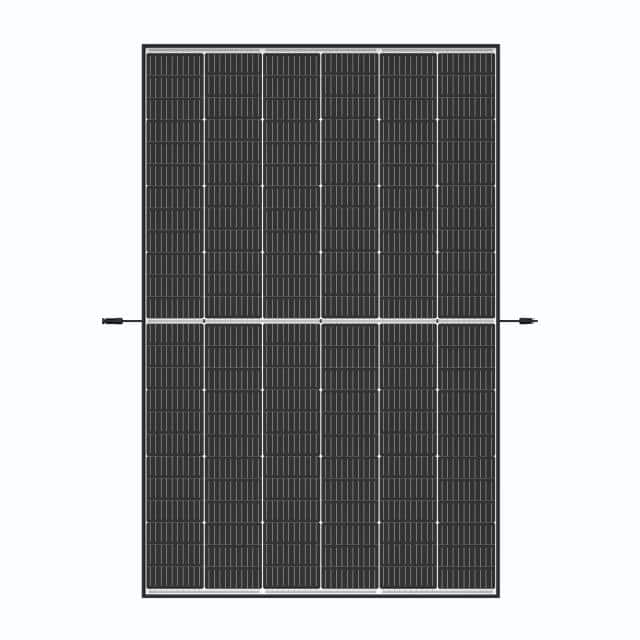 The Vertex S panels are a bit smaller and lighter than the regular Vertex panels. They're perfect for home and business rooftops. The "S" stands for small size. Even though they're medium-powered, ranging from 405W to 430W, they still pack a punch with an efficiency of 21.8% and a top power rating of 430W. They're made with mono-PERC, MBB, and high-density tech.
The New Vertex S+ 450W Panels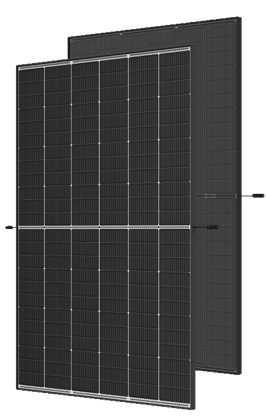 Trina has a new star in their lineup: the Vertex S+ series. This is pretty much the best panel they've ever made. It can reach a power of 450W and has an efficiency of 22.5%, which is as good as some of the top solar panels out there. To get this much power from a smaller panel, Trina used their newest tech, called N-Type TOPCon cell technology (or PACO for short), along with high-density cells and multiple busbars.
Double-Glass Design
Incredibly, the Vertex S+ panels use two layers of glass, instead of the usual one. Both sides have a 1.6mm thick toughened glass, while most other panels have one 3.2mm glass sheet and a plastic back. Bifacial panels use this double-glass setup to catch light that bounces back, boosting efficiency. Using two layers of glass also makes the panel more durable and long-lasting since it protects better against water getting in and the usual wear and tear of plastic backs.
Warranty Info for Vertex S+
Trina really believes in the Vertex S+. It's the first time they're offering a 25-year product warranty and a 30-year performance warranty on a panel. This is because the high-quality material they use doesn't wear out as quickly. In the first year, the power drops by only 1%, and then it decreases just 0.4% every year after. So, after using it for 30 years, you'd still get at least 87.4% of the power you started with. That's a long time for a solar panel to stay effective.
Trina Honey Panels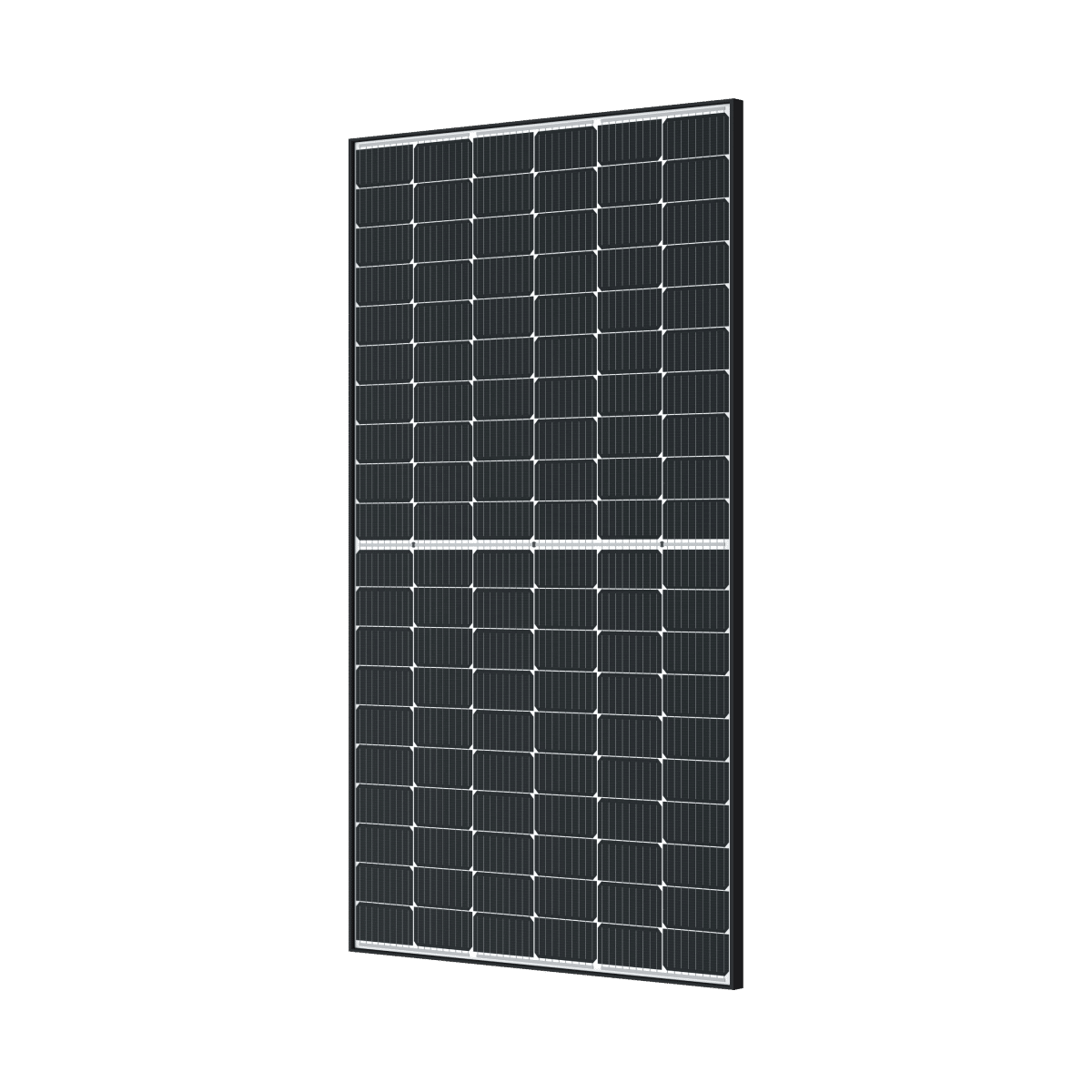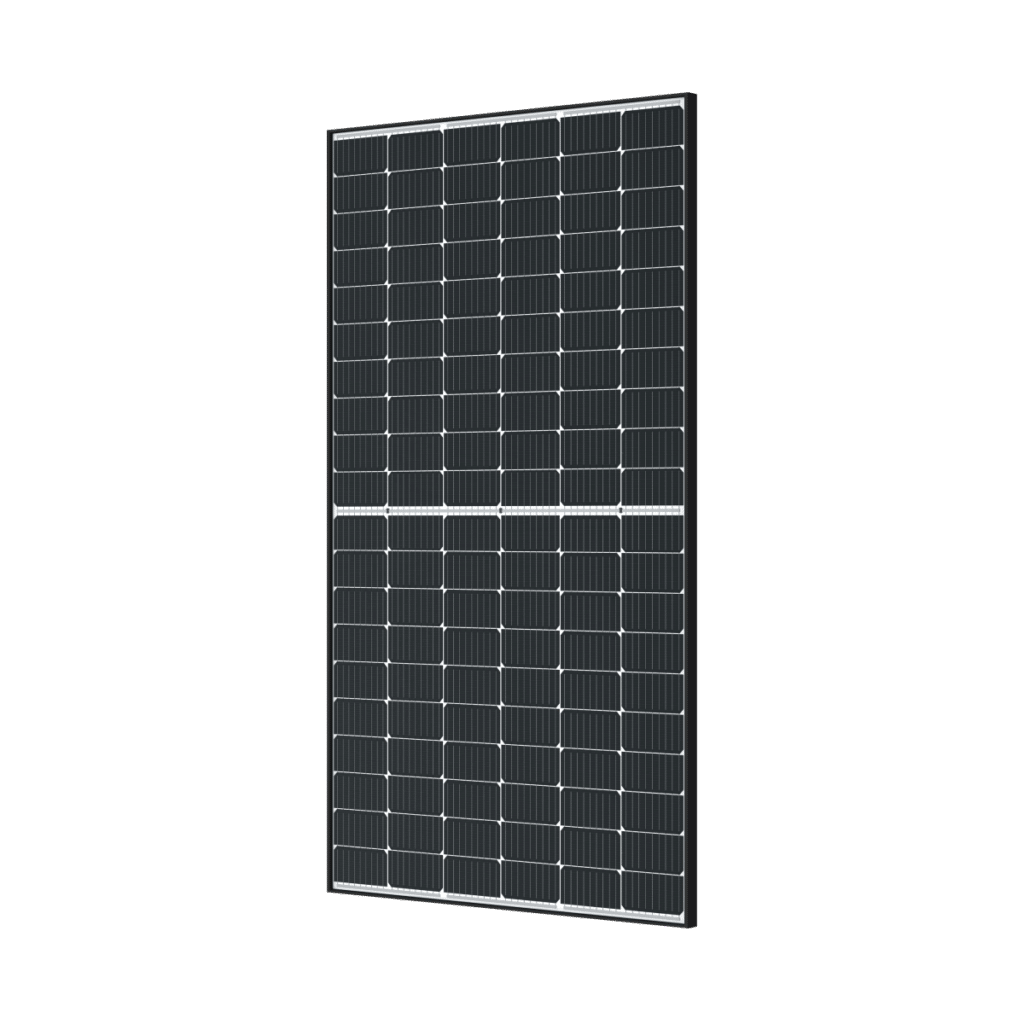 Trina's older Honey panels are known for their mix of good quality, strong performance, and being worth their price. The newer version, Honey M, is even better. How? It uses monocrystalline cells and introduces half-cut PERC cells with 9 busbars (or MBB). They come in sizes from 350W to 380W. The Honey M black model looks super sleek with its all-black design.
The newest 380W panel has upped its game with an efficiency of 20.7%, thanks to using the big format mono PERC, MBB cells.
Vertex N High-Power 600W+ Panels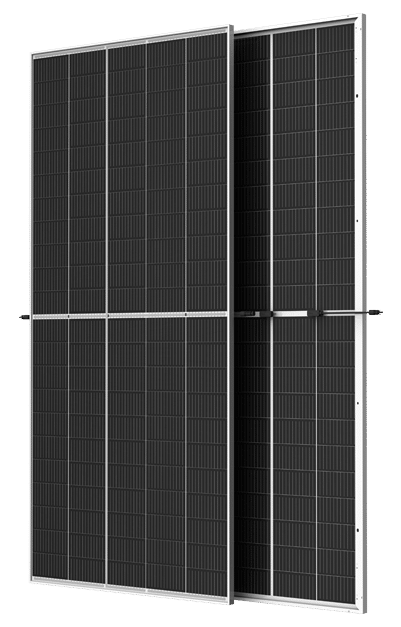 There's been a worldwide competition to make the strongest solar panels, and Trina Solar is definitely a big player. They introduced the new-gen Vertex panels in early 2020, and it immediately got attention with its 515.8W power, tested and confirmed by TUV Rheinland. This success came after Trina started producing these Vertex panels on a special small production line. Then, a few months after that, at a major solar expo in China, they blew everyone away with a 660W Vertex panel. Jump to 2021, and Trina released a 670W Vertex panel with a whopping 21.6% efficiency. This makes it one of the top panels for big solar projects. Even more recently, Trina introduced the Vertex N series, which uses a super pure and durable cell tech called N-type i-TOPCon. These panels can deliver between 670W to 700W with a peak efficiency of 22.6%.
Trina's High-Tech Solar Cells
Trina is paving the way with some cool new solar cell technologies. They're developing things like a special N-type i-TOPCon cell, multi-busbar (MBB) cells, and advanced cells that work on both sides.
Top Chinese solar companies are all looking at N-type cells to make their panels more efficient. Big brands like LG & Sunpower have been using similar cells for a while now, but they're pricier. As Trina and other companies make more of these N-type cells and invest more in the tech, the prices should go down, and we'll get more power for our buck.
Multi-Busbars (MBB)
Trina was one of the first from China to use multi-busbar technology, or MBB, in all their new panels.
Why switch to MBB? It's straightforward: it's more efficient and reliable. The old flat ribbon busbars that you'd find on the front of a solar cell could cast a tiny shadow, making the panel less efficient. MBB reduces that shadow and makes the panel work better. Another plus? It keeps the cell cooler, which is great because an overheated cell can create "hot spots" if it breaks, which are bad for performance.
This MBB design, with its many small round wire busbars, reminds many of the high-end LG Neon 2 panels that have been around for a bit. Now, Trina is making this top-tier tech available to more people by producing a lot of them and finding ways to cut costs.
Understanding Bifacial Solar Panels
Bifacial solar panels, which soak up sunlight from both sides, have been around for quite a while. But only recently have they become trendy because the cost to make these high-quality PERC monocrystalline cells has gone down. When placed in the right spot, they can produce up to 30% more power than regular, one-sided panels. Trina Solar, a leader in this tech, developed their DuoMax Twin panels that use a mix of special cells and are enclosed in a two-sided glass panel. These panels work best when they're on moving mounts and placed over light surfaces like sand or snow.
Is Trina's Quality and Performance Good?
PVEL (DNV-GL), a respected German testing group, produces an annual report on how well different solar panels perform. Over the past six years, Trina solar panels have consistently been marked as a 'Top performer' among many of the world's top solar brands. This doesn't mean Trina is number one, but they're among the best. And since PVEL is such a trusted testing organization, it tells us that Trina Solar panels are pretty reliable whether you're using them for a big or small project.
What About Quality Control?
Like other big companies, Trina Solar had some bumps in the road when it came to quality. A while back, between 2011 and 2014, there were issues with some panels because of the materials they used during manufacturing. While recent panels haven't shown any known problems, it doesn't rule out potential issues down the line. Like any major manufacturer, occasional defects or issues in certain batches or individual panels can occur.
But a big thing to consider is how a company responds when problems arise. And Trina has gotten better at helping out installers and customers when issues pop up, as we'll see next.
Understanding Trina Solar's Warranty and Service
Trina Solar provides a standard 12-year warranty for their products, ensuring they're free from defects. Additionally, they offer a 25-year performance warranty, meaning the panels will still produce at least 84% of their original power after 25 years. The Vertex series gets an even better deal with a 15-year product warranty, which can be extended up to 25 years. And the Vertex S+ panels? They come with a robust 25-year product warranty and a 30-year performance warranty.
Stepping Up in Customer Support
Since their 2018 review, Trina Solar has amped up their game in customer service, especially when dealing with warranty claims or product issues. Past reviews were mixed, but recent feedback points to Trina Solar being top-notch in handling warranty concerns, with a more efficient process and better overall customer service.
A Focus on Sustainability
Trina Solar is looking at the bigger picture by enhancing their manufacturing to be more eco-friendly. They received a nearly perfect score from the SVTC for their green efforts. This score reflects better working conditions and responsible recycling. They also recently got recognized by TÜV Rheinland for their low carbon emission Vertex modules. Last year, they achieved a double "Environmental Product Declaration" certification, which checks how eco-friendly their manufacturing process is from start to finish.
Is Trina Solar Worth It?
Trina Solar stands out as a top choice for cost-effective and trustworthy solar panels. Their improved customer service, cutting-edge solar technology, and enhanced efficiency make them an industry front-runner. Their achievements in independent testing and their position as one of the top five manufacturers worldwide add another layer of trust.
The Vertex series, especially the Vertex S+ panels, show off Trina Solar's commitment to innovation and quality. Their long-standing reputation and ranking as a Tier 1 company mean they're likely to be around for a long time, ensuring they'll be there to handle any future product concerns.
To sum it up: if you're choosing Trina Solar panels, you'll mostly get a 12-year product warranty and a 25-year performance warranty. The advanced Vertex series offers even better warranties, making them a solid long-term choice.
Let 8MSolar Help You Decide
Choosing the right solar panel brand for you can be confusing and overwhelming. Let 8MSolar help you find the right fit for your solar project. Our team of solar experts are equipped and ready to help you plan and install the perfect solar panel system for your home. Contact 8MSolar today.