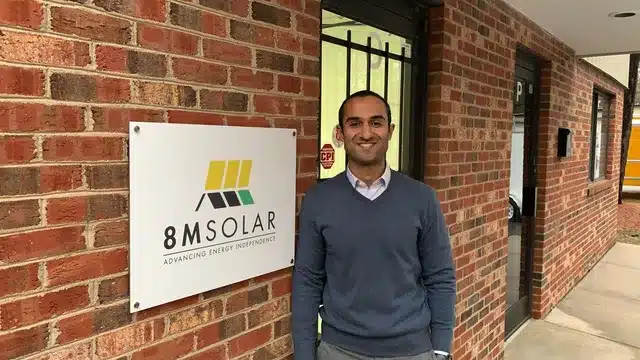 Here at 8MSolar we strive to bring original ideas to the table day in and day out, and in the past year that mindset has paid off. In 2020, 8MSolar was named one of the Top 10 Most Innovative Renewable Energy Companies by Aspioneer.com. Continue reading to find out what we're doing to have achieved this title.
8MSolar also got rated as a top solar installer company in the NC area by ECOWATCH. Check out why here!
How Did We Become a Top Renewable Energy Company?
We have always set our focus on providing the best products combined with our best services. Each solar PV solution is engineered exclusively for each home and business that we work with. This means that each one of our customers is guaranteed a solar solution that exactly fits their needs, rather than providing them with a cookie-cutter solution. As one of our co-founders, Usman Noor, said in an interview with Aspioneer, "We provide custom engineered solar PV solutions for each customer we work with. We approach each project as its own entity and deliver the best possible solution based on the demands of our clients."
As far as providing excellent service when it comes time for installation, we make sure that each of our employees is up to date with all product and safety knowledge. Not only do we require twice-a-year solar PV training for all employees, but our sales and engineering teams have frequent training with our hardware partners. We have found that when all of our employees are provided with the right knowledge and tools for learning, our expertise in solar technology is unmatched. We're also the only solar provider in North Carolina with both unlimited construction and in-house engineering licenses so that we can commit to giving each customer a high-quality design met with the finest construction.
The Importance of Energy Independence
As one of many renewable resource companies, we are passionate about clean energy that doesn't harm our local environments. However, we set ourselves apart by being highly committed to providing our customers with solar solutions that help them become fully energy independent. Meaning that we aim for our customers to rely on the solar energy their new system creates rather than defaulting back to using energy from a utility company during what's referred to as "low-cost hours". Additionally, energy independence often includes backup batteries, so your home or business continues to function as normal during blackouts.

So how do we do it? We're partnered with all major solar equipment manufacturers such as Solar Edge, Silfab Solar, Solaria, REC, and Tesla so we can provide the best products possible. We are also a certified Tesla Powerwall installer so our custom-designed solar systems can include the best backup battery on the market.
Growing More In Future Years
It's no surprise that in 2020 many businesses took a hit from the pandemic. And when 8MSolar saw a slow down of business during the early months of COVId-19, we didn't let that shake us. As we refocused on creating contactless proposals and design consultations, we were able to see new growth toward the end of 2020.
As solar technology continues to advance, so will we. We are excited about the up and coming advancements in solar cells and production innovations. For more on the advancement of solar, check out our blog on the future of the solar industry.
As far as physically growing, 8MSolar will be expanding operations to South Carolina and Virginia in the future. As Usman said to Aspioneer, "I aim to make 8MSolar the most well regarded commercial and residential solar installer in the Eastern US."
You can read the full article from Aspioneer on 8Msolar and Usman Noor here.
If you're searching for one of the best renewable resource companies, you've found us.
Contact us today to learn more about 8MSolar and our innovative approach to helping you become energy-independent.