Solar energy is growing each year with more and more people installing solar panels on their businesses and homes. People are more aware than ever about the benefits of solar energy and are looking to install solar panels. To meet this desire, more and more solar providers have popped up across the country creating a variety of solar providers, both local and national. Read on to learn why choosing a local solar provider instead of a national one is important.
National vs. Local Solar Installers
A national solar provider is a company that installs solar panels in various states and locations. These companies are the ones you usually hear about when you think about solar panels. They have massive marketing efforts and an enormous network of customers. On the other hand, local solar panel companies usually only serve a specific area or state. These companies typically have crucial local expertise and building code knowledge. So though it may sound counterintuitive to choose a smaller solar company, local installers have many key benefits that make them much more suitable for local construction projects.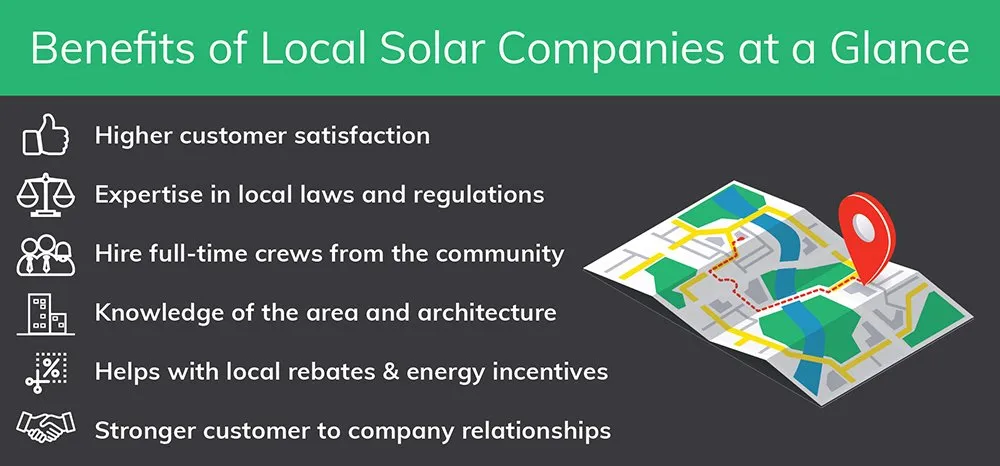 One of the benefits of a local solar company is that they're focused on your satisfaction. They have to do a good job. Local companies often rely heavily on word of mouth reviews, so they need to provide the best work possible. In addition, the employees at a local solar company also live, work, and play in the same community as you. They're likely to care about the community and want the best solar systems and installations for their neighborhoods too.

Where one bad installation won't hurt a national company, it would hurt a local company. So you can be sure that your installers will go above and beyond to make sure your installation is as good as possible and that you're satisfied with the work done and your solar system. Local installers will continue to focus on customer satisfaction when you have problems with a system or questions like solar panel warranty options. There's a reason that local solar companies consistently rank higher in customer satisfaction than national companies.

A solar installation isn't as simple as putting panels on a roof. You have to secure the right permits that meet state, county, and city requirements. There are local safety guidelines that need to be met to alter a residential roof in any way. To get your solar panels installed, you're going to need to file the correct paperwork and get the right permits. A national installer can help you with these requirements, but they'll be starting from scratch and trying to get a basic lay of the land before they can do anything, increasing the chances of delay or even errors.

That's why using a local solar company is important. Local companies are familiar with the requirements and confident in getting the right permits pulled and paperwork submitted. They are also experts in working with HOAs  and might even have experience with your particular HOA. You'll save time, money, and hassle by relying on a local solar installer who knows the local laws. 

Your installation crew matters. A dedicated local team that's full time will report directly to the company owner, something national companies can't do. There's a higher level of accountability and drive when the installers work directly with management. Also, many national crews are only hired on as part-time or seasonal contractors, so they may not have the same level of full-time expertise that a local full-timer would. Oftentimes, national installers subcontract their installations to roofing contractors that might not necessarily know the nuances of solar installation.

In addition, these local crews hire members of your own community and provide excellent workplaces that benefit your community. Solar jobs most often pay higher than minimum wage and provide a good living for employees. When you choose a local solar company, you're investing in your community and helping to provide local jobs. The paychecks for your installers will go directly back into the community as well.

Each neighborhood and city has its own unique architecture and area. While it might not sound important, having a solar installer that understands your roof and the local area can make a big difference in your solar installation. It can make a difference in your solar installation if your installers understand the roofing materials common in your area, whether it's clay tiles or asphalt shingles.

A local solar company will have experience working with the roofs in your city, and they'll know the best racking to install, the best way to install them, and the best ways to keep your roof safe as well. Local companies have experience and knowledge of prevailing local environmental conditions as well, oftentimes they will provide upgraded materials that are more suitable to local climates. They will be able to customize your system to fit these needs. A national solar company has set products they will use on for all systems.

A solar energy incentive can help make solar installations affordable and reduce the cost of solar panels. But many of the solar incentives are local—from your state or local electric utility—and are not known about by those who aren't constantly working in solar locally. Local solar panel companies, though, will know about all the available solar incentives for your area, and they'll even know how to apply and will help you through the process.

Overall, a local solar company provides a stronger relationship between the company and the customer. You'll be able to work closely with your team as they work with you through the entire process, from filing paperwork to applying for rebates to the actual installation. A local company will prioritize you and your installation and make it a positive experience through the whole process.

Unlike national solar companies, your relationship with a local solar company doesn't end once your installation is complete. Service response times are typically significantly faster with a local installer. They will also take greater care in staying in touch with you even after the installation is completed. The local solar installer will perform any necessary maintenance or repairs on your system as long as it is covered by the warranty.
Choosing a Local Solar Installer
When it comes to solar installations in North Carolina, 8MSolar knows the local communities and can provide you with the benefits of a local solar company. We are consistently ranked as one of the best installers in North Carolina because of our unrelenting focus on high quality engineering, best in class installation and complete customer satisfaction.
From solar installations to solar repairs, our solar panel technicians and experts provide the skills and relationship you're looking for in a solar company. Contact us for a quote today.