Should You Replace Your Roof Before Solar Installation?
When contemplating the installation of solar panels, the condition of your roof is a significant consideration. A common question that arises is, "Should I replace my roof before installing solar panels?" Our recommendation is that if your roof has five or fewer years of life left, it's better to go ahead and replace the roof prior to installing residential solar panels. This approach is based on the fact that installing solar panels on an old roof could lead to additional costs down the line, such as removing and reinstalling the panels when you need to replace your roof.
However, if your roof is new or has five to seven or more years of life remaining, it's an excellent time to get solar (there's no benefit to replacing the roof prior to installing panels).
What About Roof Leaks?
When it comes to roof leaks, you can rest assured with 8MSolar. Our installation teams are highly experienced, with most having installed hundreds of systems and thousands of panels. Despite the necessary roof penetrations, we minimize them by using top-tier flashing and roof mounting systems, like the Pegasus Mounting System or the IronRidge FlashFoot2. These systems have proven longevity and are adept at preventing leaks for the life of the system. Each comes with a 25-year warranty.
When investigating roof leaks, it's important to know whether the leak is caused by the solar installation or a general roofing issue. Here are some characteristics to help identify the source:
Location: Solar-related leaks typically occur directly below the solar array, whereas general roof leaks can occur anywhere.
Appearance: Solar-related leaks often show signs of water trail originating from the area of penetration. On the other hand, leaks due to general roofing issues may not have a clear water trail.
Frequency: A solar-induced leak is often consistent, while general roof leaks may be sporadic, increasing during heavy rainfall and disappearing during dry spells.
Please note that roof leaks resulting from installing solar panels, when installed by an experienced installer using top-quality mounts, are extremely rare.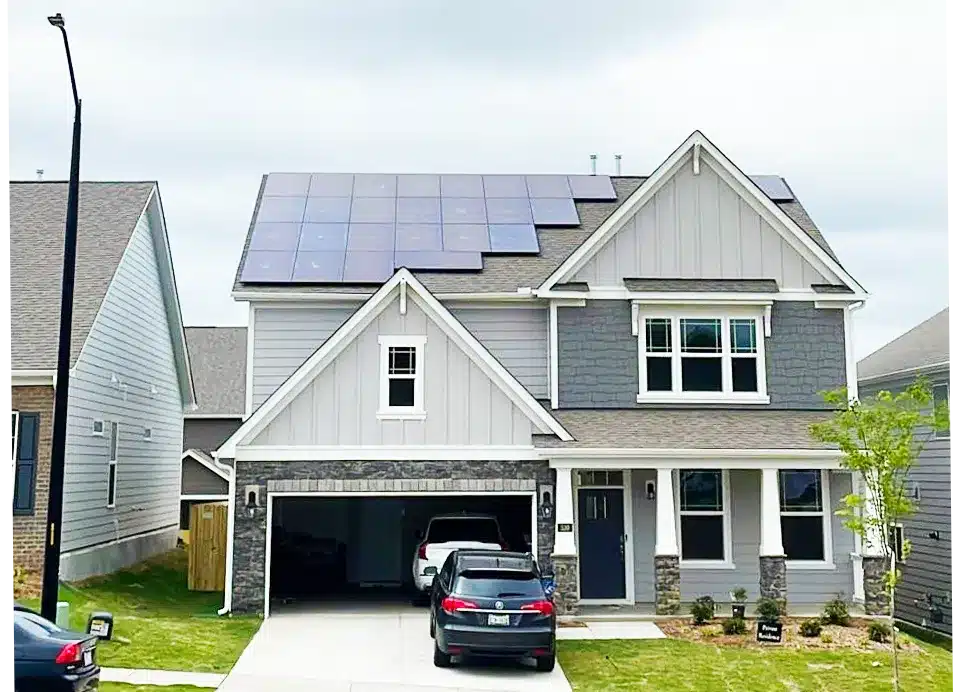 The 'De and Re-Installation' Process
De and re-installation is the process of taking down your solar panels and reinstalling everything when you need to re-roof. This service is readily provided by 8MSolar, ensuring that your transition to a new roof goes smoothly without affecting your solar installation's performance.
Choosing the Right Mounting System
At 8MSolar, we only use the best solar panel (roof) mounting systems. However, it's important to understand what to consider when an installer is choosing a mounting system for your project:
Quality: Does the installer use high-quality, robust equipment, or are they opting for cheaper, less effective options?
Brand reputation: Brands like IronRidge and Pegasus have proven track records. Check for a brand's reputation in terms of longevity and performance.
Warranty: A long warranty period is a good indication of a product's quality. Look for systems with warranties of 25 years or more.
Detailed proposal: Some installers are vague about the specifics of the mounting system they'll use or do not mention it at all. Always insist on a detailed proposal.
Remember to ask any installer for the specific details of the mounting system they plan to use. If an installer is vague about the mounting system they'll use, consider that a possible cause for concern.
Our Lifetime 8MSolar Workmanship Warranty
In addition to offering high-quality materials and services, we provide a Lifetime 8MSolar Workmanship Warranty that covers roof penetrations. This solar warranty reflects our confidence in our teams' work and our commitment to ensuring our clients' satisfaction.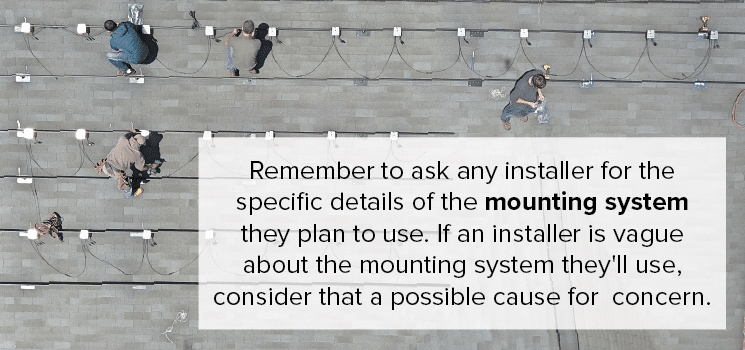 Deciding What's Best for Your Roof
Deciding when to install solar panels and whether to replace your roof first can seem challenging. However, armed with the right information, you can make informed decisions that lead to years of sustainable, cost-effective energy. Remember, if you have any doubts or questions about replacing your roof before solar installation or about potential roof leaks, our team at 8MSolar is always ready to assist, contact us today.