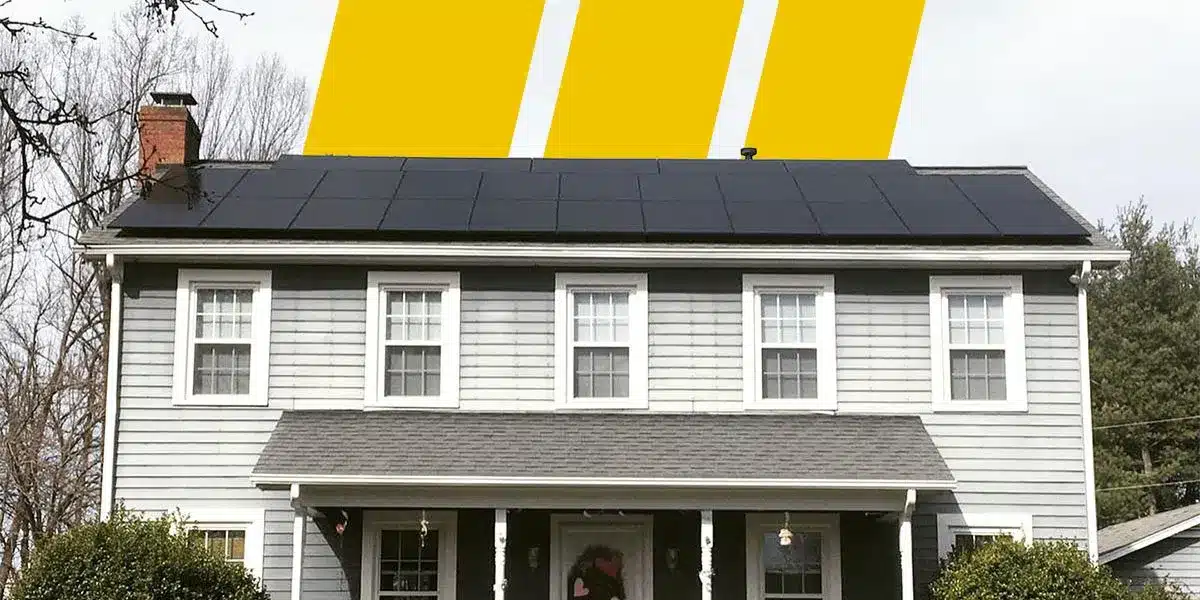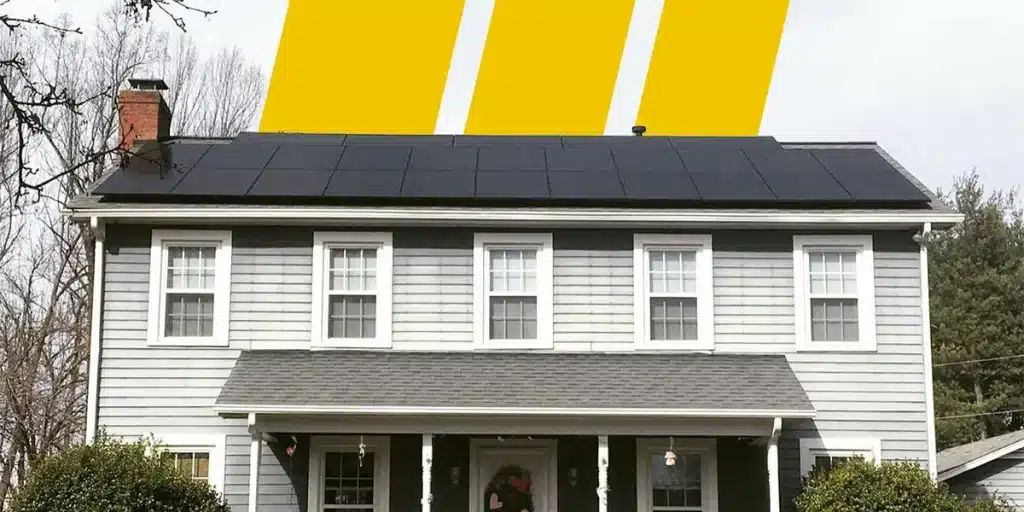 As hurricane season approaches, many people living in coastal areas wonder if their homes and businesses are prepared. One of the biggest concerns is whether or not solar panels can withstand the high winds and flying debris that come with these storms. The popularity of solar systems has increased as energy costs rise, but how are solar panels in heavy winds — and can they stand up to a hurricane?
If you're thinking about installing solar panels but don't know whether they're right for your location, the experts at 8MSolar can help. Schedule a free virtual consultation today to see what solar could look like for you. 
Armor for Your Roof
Solar panels do more than produce green, affordable energy — these systems have the added benefit of armoring your roof for protection from the elements. Solar panels keep ultraviolet light from damaging the shingles and wood while shielding your roof against rain, hail, wind and wear. This additional protection will ensure your roof lasts longer.
Solar panels consist of tough, durable materials that can withstand high winds and flying debris and keep your lights on during storms. When you use a reputable solar manufacturer like 8MSolar, you can rest assured that your panels will aid you all year — including hurricane season.
How to Select High-Quality Panels
You'll find many solar panels on the market, though not all of them are built to withstand the strong forces that come with a hurricane.
Pay attention to these three factors when shopping for hurricane-proof solar panels.
1. Warranty
First, check the warranty to see what kind of weather protection the manufacturer includes. Some companies offer environmental protection warranties for their panels to cover damage from unforeseen circumstances like hurricane-force winds. At 8MSolar, we provide an extensive 25-year warranty to ensure your panels will secure your energy supply for years to come.
2. Panel Construction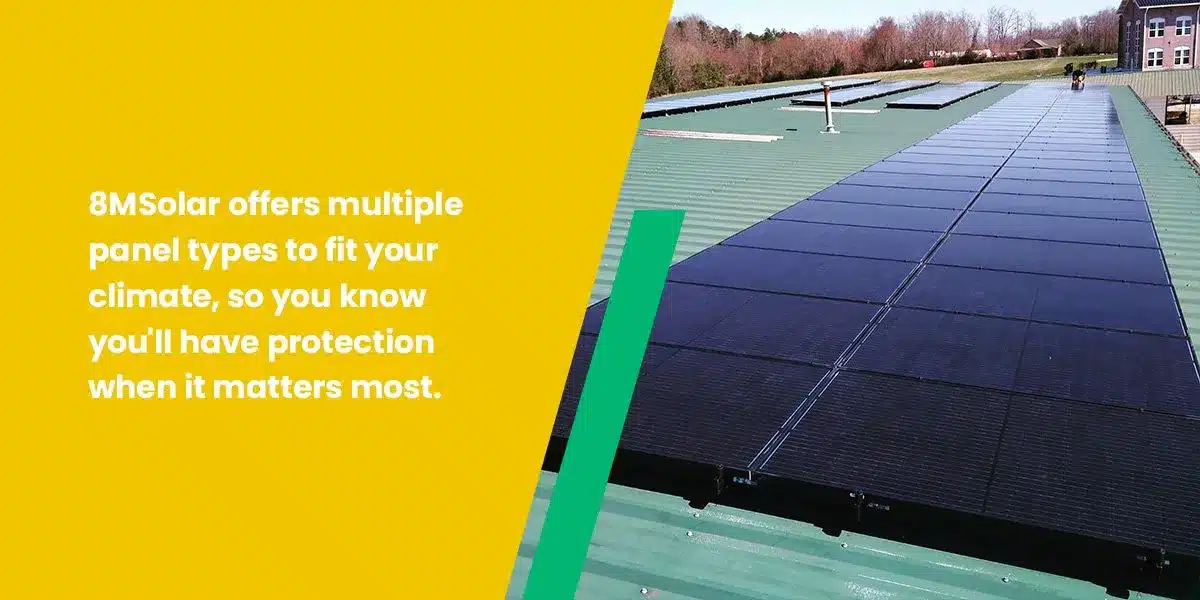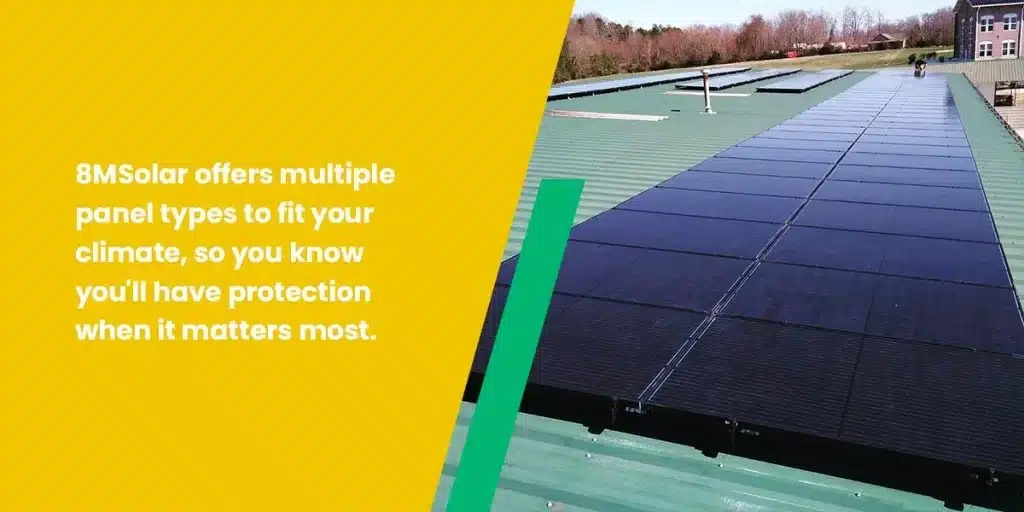 Next, determine the solar panels' durability by looking at the physical construction of the panel and mounts. Proper solar panel systems should involve reinforced frames and durable materials to help them withstand high winds and flying debris. In coastal and hurricane-prone regions, panels should be graded for hail and 160-mph winds at a minimum.
8MSolar offers multiple panel types to fit your climate, so you know you'll have protection when it matters most. Our monocrystalline and polycrystalline panels will lower your energy costs during calm days while withstanding hail and hurricane-grade winds during stormy seasons.
3. Installation Process
Ask your installer about the installation process. Hurricane-rated fasteners and mounting systems should secure the panels to your roof. Your hurricane-proof solar panels need proper installation to withstand the strongest storms.
8MSolar holds unlimited commercial construction and engineering licenses to deliver the highest-quality design and installations.
Peace of Mind During Power Outages
For extra security during storms, install battery backup systems alongside your panels to provide electricity in situations where there's no grid to rely on or sunlight available. Battery backups can make all the difference if you live in an area that experiences hurricanes or other heavy storms regularly. You'll need them if the storm knocks out power lines, a common occurrence after a hurricane hits land. With an adequate battery backup system, your home will stay lit.
When choosing solar panels from 8MSolar, you will have the option to include a battery backup to your energy system. Even if the grid goes down, your energy supply will not.
Install Your Reliable Energy System Today
When it comes to solar panels, 8MSolar handles everything from initial design and installation to maintenance and repairs. We'll work with you to install your panels efficiently, maximizing your savings while protecting what matters.
Our team of experts at 8MSolar can answer any questions you might have about solar and walk you through the process step-by-step. We dedicate ourselves to providing the best possible service and quality workmanship, so you can feel confident knowing your investment will be protected.
Schedule a free virtual consultation today to get an in-depth report of what your roof can do!