Understanding the Role of HOAs in Solar Installation
Homeowners Associations (HOAs) often have certain guidelines that residents must follow to maintain community aesthetics and standards. The process of installing solar panels usually requires HOA approval. Understanding these procedures is vital to a successful installation and seamless integration of solar panels into your home.
The Process of HOA Approval for Solar Panels
HOA approval for solar panels involves an application process that typically requires a detailed project description, equipment specifications, site photos, and 3D renderings of the proposed system. Some HOAs might request additional information or documentation for a comprehensive evaluation. It's important to understand that every HOA has different requirements and processes, and therefore it's crucial to work with an experienced residential solar installation company that understands these nuances.
8MSolar's Commitment to HOA Approval
8MSolar is committed to assisting homeowners throughout the HOA approval process. We provide the necessary documentation, including 3D renderings, site photos, equipment specifications, and project descriptions. Additionally, we can provide references to previous systems we've installed with similar components to assure the HOA of our quality and standards.
However, the homeowner is generally responsible for signing and submitting the final HOA application. This cooperative approach ensures that the homeowner is involved and informed throughout the process.
Overcoming HOA Objections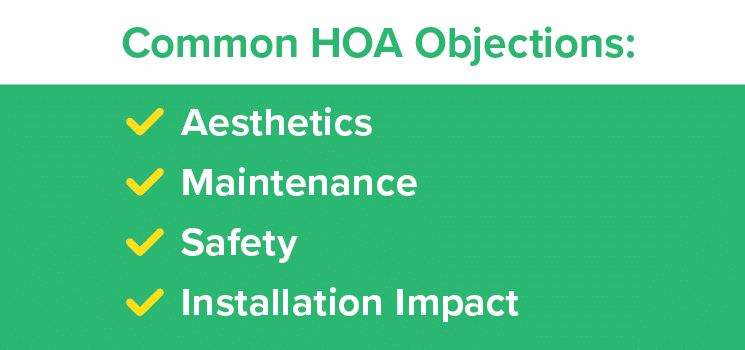 While rare, HOA objections to solar panel installations can occur. Common objections include:
Aesthetics: The HOA might be concerned about how solar panels will alter the appearance of the home or community.
Maintenance: Concerns may arise about who will be responsible for maintaining the solar panels and the associated costs.
Safety: Questions about the safety of solar panels, especially in adverse weather conditions, can be a factor.
Installation Impact: The HOA might have concerns about potential damage to common or neighboring properties during installation.
In such cases, 8MSolar stands ready to assist homeowners in appealing the decision. We will provide additional supporting information and justifications to address the concerns raised by the HOA. If required, we are prepared to attend an in-person appeal meeting with the HOA to ensure all concerns are properly addressed.
Benefits of Getting Your Solar Panels Approved
Obtaining HOA approval for solar panels is not just a procedural hurdle. It also offers numerous benefits:
Community Appeal: Solar panels can enhance the overall appeal of the community (to a new homebuyer, for example) by demonstrating commitment to sustainability as well as the ability for a resident to have access to clean, renewable energy. 
Increased Property Values: According to the U.S. Department of Energy, Zillow, and others, homes with solar panels usually sell faster and at higher prices than comparable homes without solar panel systems. 
Environmental Benefits: Solar panels reduce carbon footprint, aligning the community with environmental conservation efforts.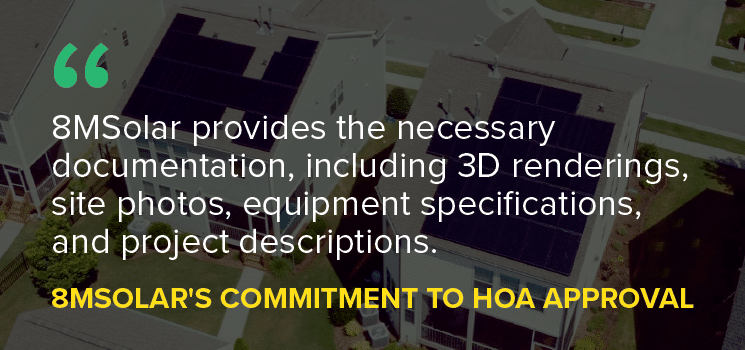 8MSolar is Here to Help
8MSolar is committed to ensuring a smooth transition to solar energy for homeowners, including navigating the HOA approval process. We stand ready to support our clients every step of the way, from application to appeal if necessary, ensuring that the transition to solar energy is seamless and beneficial for all parties involved.