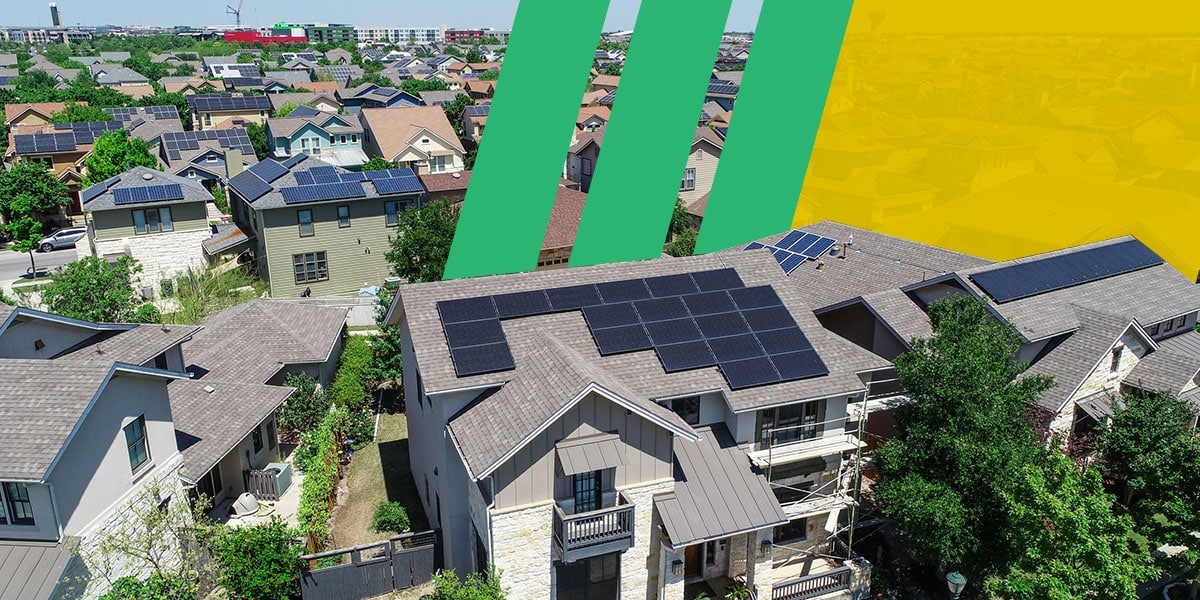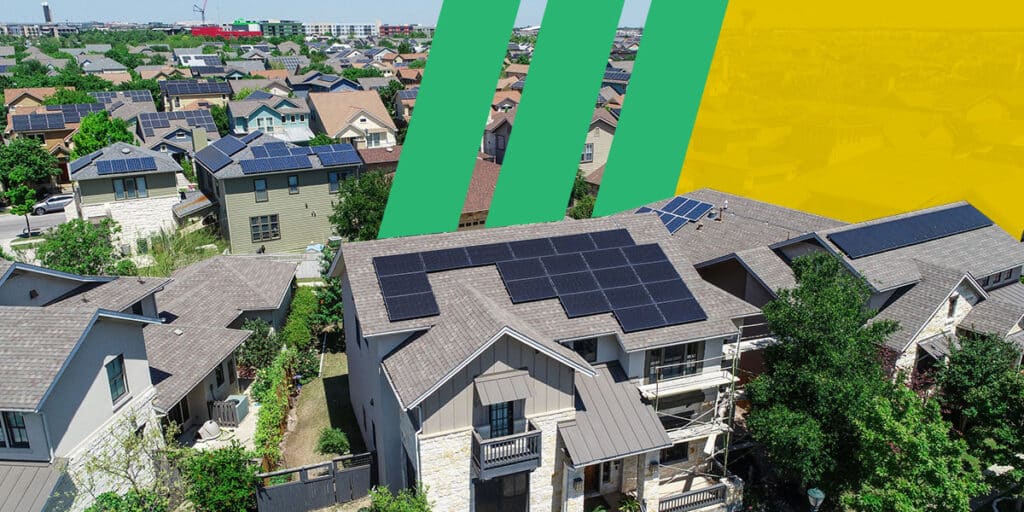 Investing in solar panels is an excellent way to offset electricity costs and contribute to an eco-friendly community. However, many homeowners have struggled installing solar panels on or around their homes due to homeowners associations (HOAs), which enforce rules within a living community or the neighborhood. As a result, many of these homeowners have been barred from benefiting from solar in the past.
The good news is that HOAs are losing their power in governing whether a homeowner can install a solar system on their property. HOAs may no longer be a significant roadblock for residential property owners in North Carolina, helping with the expansion of rooftop solar and all the benefits that come with it.
What Was the NC Supreme Court Ruling?
In early 2022, the Southern Environmental Law Center (SELC) filed a brief with the NC Supreme Court on behalf of the North Carolina Sustainable Energy Association (NCSEA). This brief supports Raleigh homeowners who installed rooftop solar systems on their homes, though their HOA opposed this installation. Homeowners who opposed their HOA faced fines of up to $50,000 and other legal consequences after installing rooftop solar.
The NC supreme court heard the case and came to a resolution. The court ruled that homeowners reserve the right to install solar on their property, even if their HOA disagrees. The state law now explicitly protects homeowners who want to go solar, regardless of where they live. However, the court of appeals decision sided with HOAs regarding which party has the right to govern where solar installations are installed.
HOAs still have the right to designate where the solar system is installed on the homeowner's property, meaning the HOA could force homeowners to install a solar system that's not visible from the street. Despite this, HOAs are not permitted to move panels to a location that prevents their reasonable use.
What Does This Mean for Homeowners in an HOA?
Almost 26% of homeowners in North Carolina live in an HOA, meaning that millions of people live in communities that, at one point, had complete control over whether a homeowner could install solar on their property. Thanks to the ruling, homeowners no longer have to face a significant barrier when they choose to go solar. The door has opened for many would-be clients who can now move forward with their projects.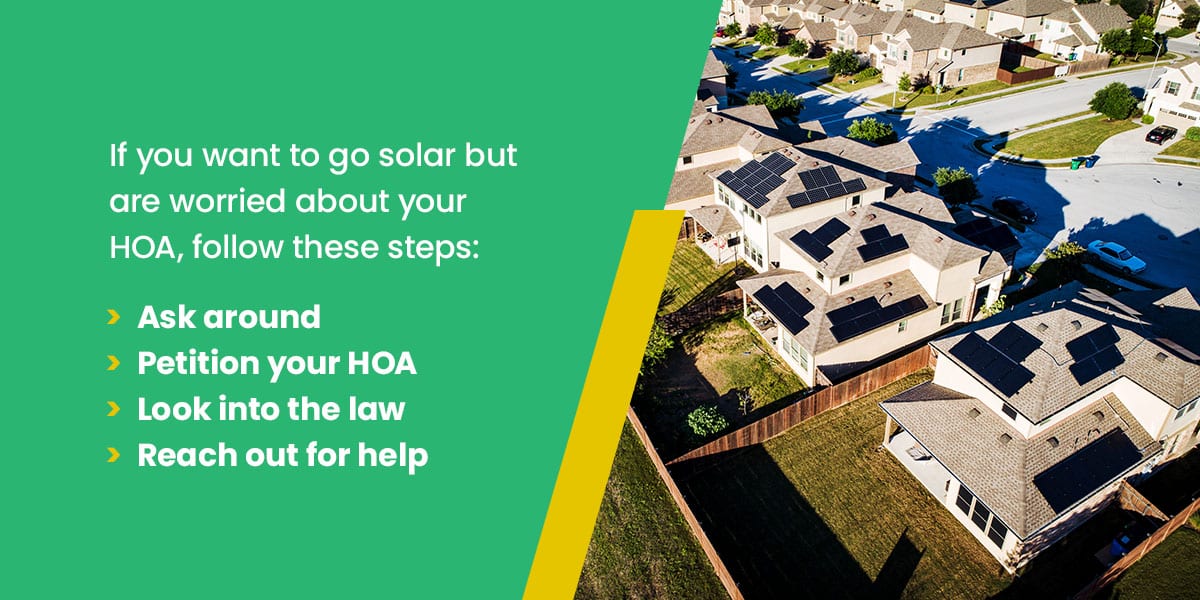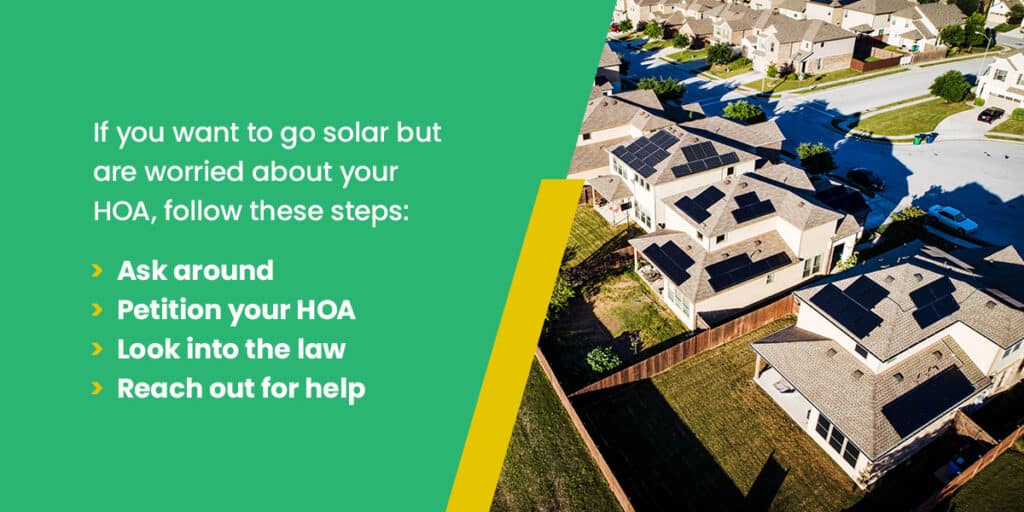 Homeowners can now approach their HOA about potential solar installations. If you want to go solar but are worried about your HOA, follow these steps to help you get your project off the ground:
Ask around: One of the first things you can do is talk to your neighbors and find out who's on the HOA board in your community. Once you know who is on the board, you can get a better idea of where they stand on solar, allowing you to determine if you'll run into any opposition if you want to install solar on your property.
Petition your HOA: In some cases, you may find that your HOA isn't pro-solar. The good news is that it's possible to change minds, especially if you discuss the benefits to property value and resilience during outages and storms. You could also ask other community members to sign a petition to help the HOA change any restrictive covenants they may have.
Look into the law: If you've petitioned your HOA and are still at an impasse, you can look into the law to see your options. Thanks to the Supreme Court ruling, the law is in your favor, and you should be able to install solar panels on your property without much resistance. However, the HOA could still limit where you can install solar panels on your property.
Reach out for help: While this may be a last resort, reaching out to a professional solar installer like 8MSolar can guide you on how to proceed. Solar installers are familiar and up to date with the law, including the new NC Supreme Court ruling, and can help you find a way to benefit from a solar installation in your home and work around HOA restrictions within current law.
With the Supreme Court ruling, homeowners can now install solar systems on their property without resistance from their HOA. If you live in an HOA, you can now enjoy the many benefits of solar, including reduced electricity costs, contribution to a cleaner environment, increased home value and a return on your investment through various tax credits and other solar incentives.
How Improvements Can Be Made Moving Forward
While the NC Supreme Court ruling is a step in the right direction, some homeowners argue that more can be done to improve the rights of homeowners in HOA communities, especially regarding the Solar Access Law. Many homeowners want to limit an HOAs ability to dictate placement, particularly for street-facing solar installations. Homeowners want to eliminate the possibility that these entities could move solar systems to locations that could cause a 10% or more drop in productivity, which would occur for many homeowners if they cannot keep street-facing solar panels.
House Bill 842 aimed to protect these rights for homeowners and made it passed the House, but it died in the Senate. There's still hope that this bill could be reintroduced or refilled in 2023, and it would be an excellent step forward in limiting the power of HOAs when it comes to solar installation.
Homeowners are hoping that lawmakers establish a reasonable use percentage of the function of their solar panels, meaning they have to perform at a specific percentage to be considered in practical use. A law like this would prevent HOAs from relocating solar panels to less-than-ideal locations that limit a homeowner's ability to produce enough electricity to power their home adequately. Whether lawmakers place this restriction on HOAs or eliminate their ability to relocate solar systems entirely, either option would be a step in the right direction for the advocacy of solar.
Take Advantage of a New Solar System With 8MSolar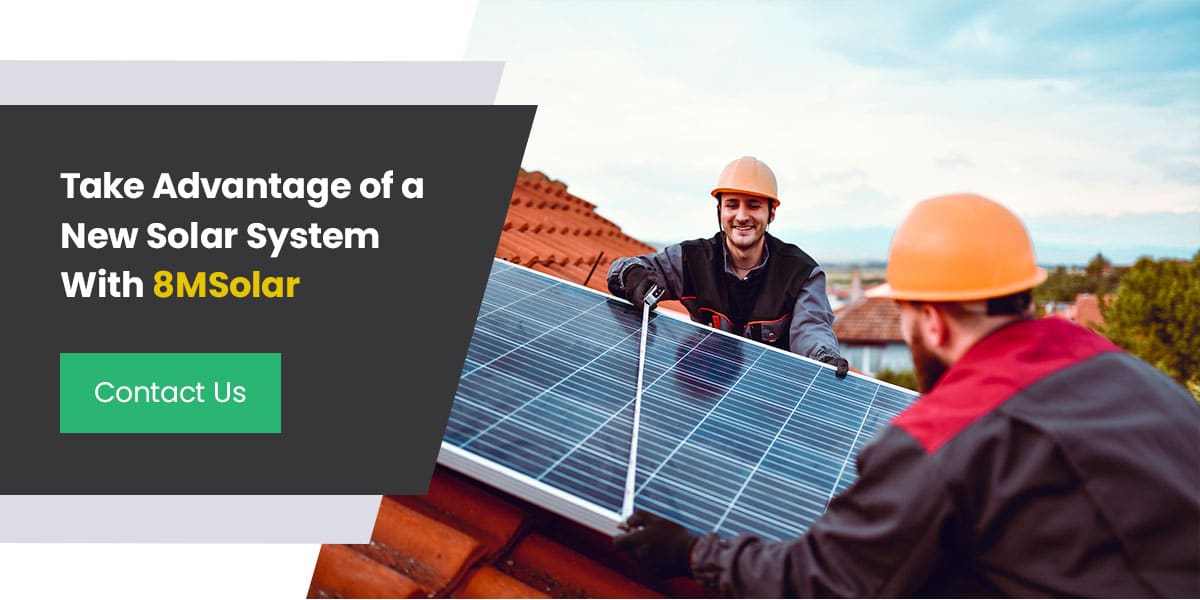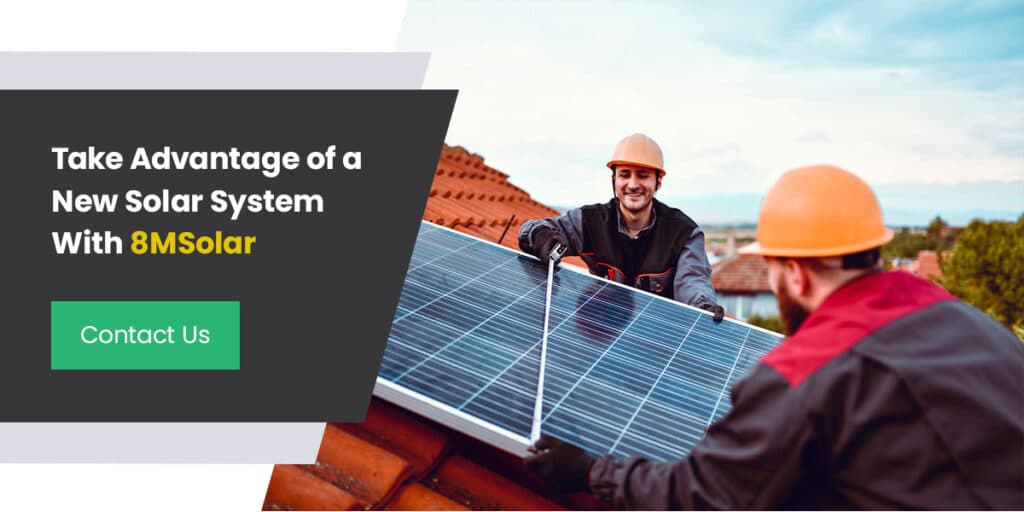 If the new NC Supreme Court ruling allows you to install a solar system on your property, 8MSolar is here to help you learn how to benefit from a solar PV system. We can help you through every step of the process, including design, installation and regular maintenance. Our solar panels and battery storage systems are some of the best in the market. We have years in the solar industry, making us certified experts you can trust with your renewable energy project.
We can also help you navigate changing laws as certified NC solar installers. We have the experience and expertise to help you gain a deeper understanding of the changing solar landscape, ensuring your installation is legal while helping you achieve all the benefits of solar, including monthly savings and a reduced carbon footprint.
Contact us today to learn more about our solar services and how we can revolutionize your energy production and consumption.