The benefits of solar panels for businesses are numerous, including significantly lower utility costs and the ability to use sustainable energy for a cleaner environment. But how would a company interested in solar panels on their commercial building get started? In this article, we'll discuss the electrical infrastructure a building needs to accommodate solar panels and any additional regulations a business needs to follow when designing a commercial solar project.
Commercial Electrical Infrastructure Compatibility for Solar Panels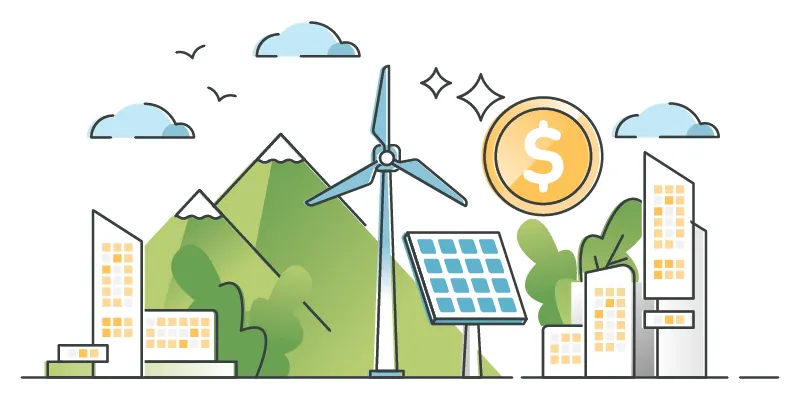 When looking to install solar panels for commercial buildings, it is important to match the solar PV system with the electrical infrastructure of the building. We'll walk through the main electrical requirements below that you'll need to know when planning your commercial solar PV system.
Match Voltage Levels and Types: When installing a solar PV system, make sure that the type of solar panels is the same. If you are trying to mix in new solar panels with a current PV system and the panels are not the same type, be sure that the parameters such as wattage, voltage, amps, etc. are the same to still allow for compatibility between the panels. Additionally, it is important that the building's current electrical panels can handle the voltage levels of the solar panels that are being installed. Be sure to talk with a trusted solar installer and engineer like those at 8MSolar to determine the best solution for your solar PV system.
Determine Electrical Distribution: It is important to match electrical panels with the correct type of solar PV system for optimum efficiency. Electrical panels generally come in switchgear panels or distribution panels. The main difference between these two panels is the voltage that they are designed to handle. Switchboards typically can handle voltages less than 600 volts, while switchgear electrical panels can handle higher voltages up to 350 kV. When looking to install solar panels for commercial buildings, be sure to have installers look at the electrical panels of your building to determine the best solar PV system that will be compatible with the commercial electrical infrastructure.
Coordinate With A Facility Generator: If there is a facility generator attached to your building, it is important that the solar panels and generator are electrically isolated at all times. If solar panels and generators are on the same electrical grid, solar panels will try to send power to the generator, almost as if it were a battery. However, generators can't handle this type of back feed and will break if attached to the same electric grid. To avoid this, make sure your solar installers are aware of any facility generators before installing.
Determine Method of Interconnection: There are two different ways to connect solar panels to an industrial building, line-side tap connection and load-side tap connection. A line-side tap connection consists of connecting solar panels on the utility side of a building's primary electrical panel/switchboard. Equipment replacement may be needed for line-side tap connection since utilities generally have strict rules for interconnection. On the other hand, load-side tap connection is generally less disruptive. With load-side connection, wires are connected directly to existing wires between the load side of the electrical panel and the main breaker. Be sure to talk with an electrician when deciding between load-side and line-side connections to determine the best option for your building.
Solar Panel Requirements for Commercial Buildings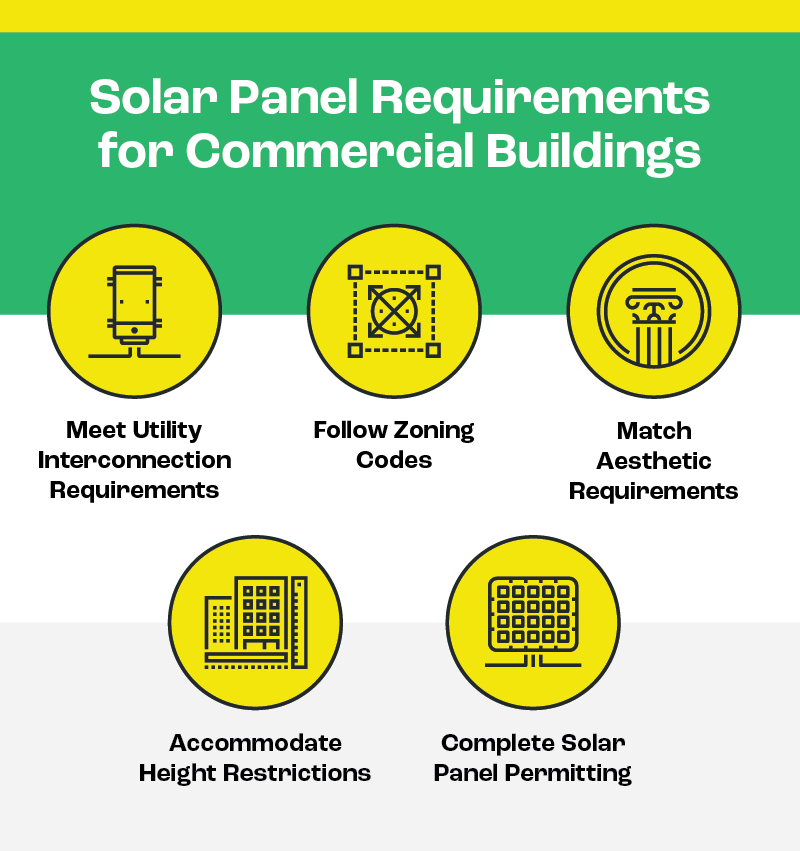 Meet Utility Interconnection Requirements
An interconnection request occurs when a customer requests to interconnect a new power generating facility to the public utility. Interconnection requests also need to be made when a customer wants or increases the capacity of, or makes a material modification to, a current generating facility already connected to the public utility.
It's required that an interconnection request be made and approved before the installation of a new solar PV system. After an interconnection request is made, net metering eligibility is determined, the system is installed, the customer sends essential permits and documents for the utility company to review, and if all is in alignment an interconnection agreement is executed and the permission to install and operate solar infrastructure is granted.
Typically, the larger the PV system, the longer it takes for permission to operate to be granted. Since commercial buildings usually need larger PV systems to operate, business owners need to be aware of this long wait time when planning to install their new system. Luckily, 8MSolar excels in providing documentation that can expedite the approval process with the local utility companies and can help you plan for the approval time frames.
Follow Zoning Codes
Zoning codes are a set of rules that property owners in specific geographical areas must follow. Failure to follow specific guidelines set in a zoning code can lead to lawsuits. The easiest zoning codes to work with for solar panels for commercial buildings are ones that include the right to solar panels within the allowed accessories section of the zoning code.
Most codes will either include the use of solar panels on buildings in the accessories or fail to mention whether or not solar panels are allowed. If the code fails to include whether solar panels are permitted or not, solar panel installations can take longer to approve by the zoning ordinance and the zoning area may require additional permits or a variant before the PV system is allowed.
Match Aesthetic Requirements
Most businesses will have aesthetic requirements that must be met to match community aesthetic standards. For example, some codes may require any rooftop mechanical equipment to have a screening to look more professional. However, a screen placed on top of a solar panel would cause shading and limit the effectiveness of the solar panel, which wouldn't be very effective for a new PV system. Additionally, some aesthetic requirements may only allow flush rooftop solar panels, or have restrictions on ground-mounted solar panels.
Whatever the requirements, be sure to look them up before meeting with your solar installers and engineers. Then, seasoned solar panel companies like 8MSolar have engineers and installers who can help you work around any aesthetic requirement in your community. Towns like Holly Springs, NC require conduits to be painted to matched the exterior walls.
Accommodate Height Restrictions
Similar to meeting community aesthetic requirements, communities also have height restrictions on how tall buildings can be. This detail seems small, but can greatly impact the design of your solar PV system. As with aesthetic requirements, be sure to look up height restrictions, and the corresponding height of your business, before meeting with solar panel engineers to design your solar PV system.
Complete Solar Panel Permitting
After plans are complete, and local zoning requirements are met, it's time to begin your solar panel permitting! Unfortunately, solar panel permitting is not standardized, and permitting requirements can change by state and city. Some permitting requirements can take a lot of time and money. Solar panel permitting usually requires customers to file for an electrical permit, a structural or building permit, and/or a dedicated solar PV permit. Obtaining these permits generally requires rooftop inspections to make sure the desired PV system has enough structural support to operate. After permits are received, the installation process can begin.
Get Solar Panels for Commercial Buildings with 8MSolar
8MSolar can help you meet all of the solar energy infrastructure requirements to install commercial solar panels. Feeling overwhelmed by the steps you might have to take? Start with a free virtual consultation, and our solar panel experts will help take care of the rest. Contact us today to get started with solar panels for your commercial buildings.