Wouldn't we all love to slice a chunk off of our monthly utility bill? Solar panels are a great investment that can save you thousands of dollars in utility bills for your home. At first glance, the price of installing solar panels can look hefty, however there are many feasible solar panel financing options that can work for your home.

The three main types of solar financing available are cash purchase, solar loan, and solar lease. We will explore each of these options below so you can decide which method will save you money long-term without breaking the bank today.
Cash Purchase
The most cost-effective option of solar financing is an upfront cash payment. Loans and leases require consistent payments to cover lower utility bills as long as you continue to live in your home, whereas a cash purchase covers the costs of an entire lifetime of solar energy. You are essentially paying for 25 years of electricity in one payment! Consider future electricity bills a thing of the past. As electricity rates continue to rise from utility companies, you will be completely unaffected.

The biggest downside of solar panel financing in cash is that you need to have a large sum of money stored and readily available to install solar panels. The cost of capital can be around $20,000. If a cash purchase of your solar system is not an option, there are still options available to finance your residential solar installation.
Solar Loan
Solar loans are a great option for solar financing because they require no money down. This makes solar a more attractive option to middle class homeowners. Monthly loan payments often make out to be less than your monthly electricity bill, which means you are still saving money from day one of installation.

When comparing solar loan financing options, be sure to check APR (Annual Percentage Rate), which breaks down the total cost you will be spending on your loan each year with interest included.

The biggest pro of a loan over a solar lease is that you have complete ownership of the system. This means you are eligible for government rebates and incentives from purchasing a solar panel system. A con associated with this ownership is that you must cover the cost of regular maintenance. You may qualify for warranties through the manufacturer that would help pay for the cost of maintenance. However, the homeowner has a more hands-on role than in a solar lease agreement.
Solar Lease
Leasing solar panels is the easiest way to secure the benefits of solar energy electricity prices, without the upkeep or know-how of owning the system. A third party installs the solar panels, maintains ownership, and provides all maintenance. Upon signing a solar lease, you lock in a set rate on electricity that is substantially reduced by 10-30% for the duration of the solar panel lifetime.

The cons of a solar lease include becoming ineligible for rebates and incentives of solar. These benefits go to the third party company that owns your system. In addition, the increase in property value of homes with solar panels is not applicable to homes leasing solar panels. This is because the new buyer does not receive anything from the investment you have made, rather they must choose to continue leasing solar panels for a regular fee or discontinue solar energy from that home.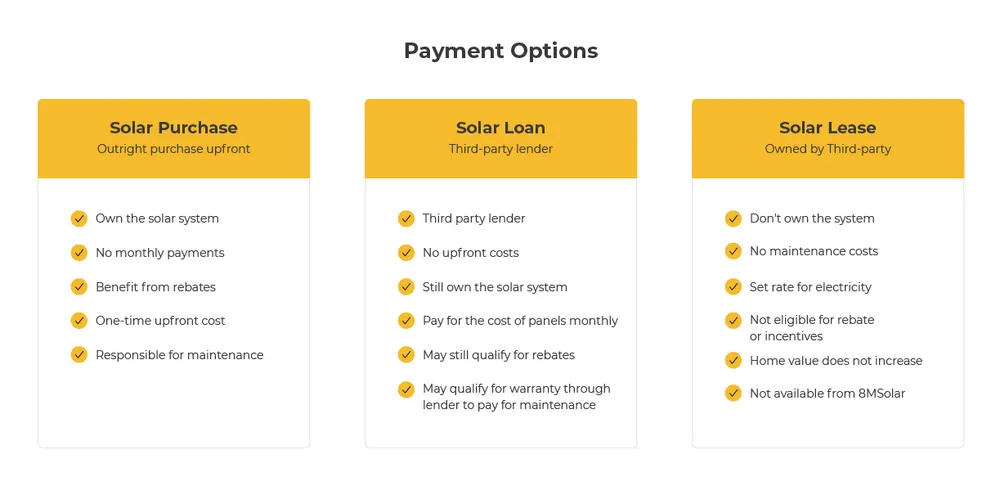 When to Expect Savings on Solar Panel Financing
No matter which way you choose to finance your solar panels, expect that your money will see a return in years rather than months. On average it takes six to nine years to get a return on your solar panel financing investment, so plan ahead and take advantage of solar now to get the best savings later.
Are there financing options available at 8MSolar?
Yes! Financing your solar panel system via one of our solar-specific loans is a very popular option for our customers.
Customers will typically go with either a short-term financing plan, such as a $0 down / 18 months of no payments / "same as cash" loan to hold them over until they receive the 30% tax credit.
Or a longer-term financing plan, something like a 25 year / 2.99% / $0 down plan where you would have very low monthly payments – often lower than your current electric bill!
Our consultants will walk you through all options available and guide you depending on your goals, plans, etc.
Schedule a Consultation
Now that we have explored the three main types of solar financing: cash purchase, solar loan, and solar lease, you can identify which fits your home best. Call us today for a free consultation on solar financing for your home.