Silfab Solar Inc. is a top player in solar panel manufacturing over the last decade. Silfab uses highly automated precision manufacturing to quickly produce high-quality products.
The manufacturing facilities of Silfab aren't its only commendable feature. The company is in North America, with branches in Canada and Washington State. This means that any product from Silfab is made locally and designed for the American market.
Silfab Solar makes a lot of panels in the U.S., so they have the Buy American Act certification. The company's products are a staple in U.S. Military and Federal Aviation Administration properties, reinforcing its credibility. Silfab plans to expand in America by building a solar cell factory in the country soon.
Let's delve deeper with our Silfab Solar Panels review, looking at their products and their competitive standing in the market.
What range of products is available from Silfab Solar?
Silfab specializes in the production of solar modules for both domestic and commercial use. All of Silfab's photovoltaic (PV) modules incorporate monocrystalline solar cells. The primary residential panels provided by Silfab encompass:
Silfab Elite
Silfab Prime
The Silfab Elite range represents the company's most efficient line of solar panels, exclusively produced in the United States. These top-performance panels are available in two wattages: 380 W and 410 W.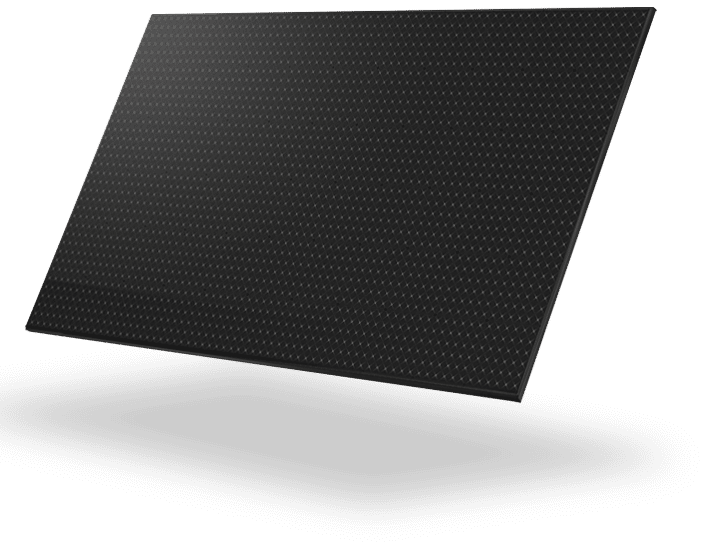 The panels are made up of PERC solar cells, known to generate slightly more electricity than conventional photovoltaic cells. Silfab Elite panels incorporate "back contact" solar cells that minimize shading effects and enable increased solar energy collection per cell. The combination of PERC and back contact technologies enhances the overall efficiency of Silfab Elite.
The Silfab Prime model is a high-quality, half-cell solar panel. The design of the smaller cells reduces the current and diminishes resistive losses, enabling increased energy production. The smaller cells also display enhanced durability due to less likelihood of cracking under pressure, owing to their smaller surface area. The Silfab Prime is available at 370 watts.
How do Silfab Solar panels measure up against their market counterparts?
Technical details of Silfab's Elite and Prime solar panels under Standard Test Conditions (STC) are given below: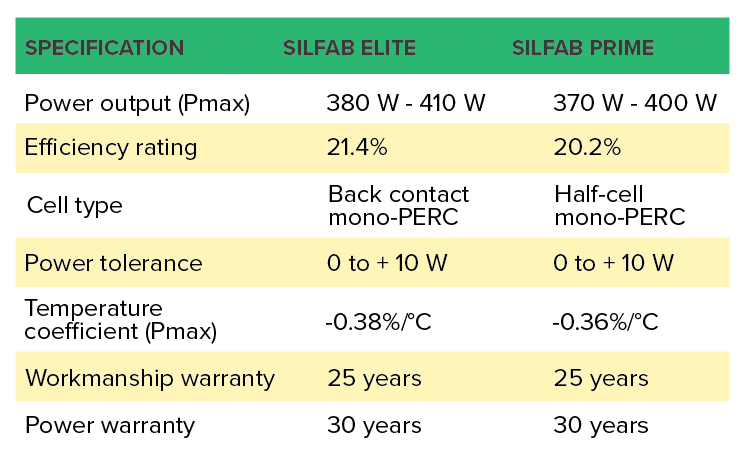 Power Rating
The power rating or output of a solar panel gauges its electricity production capacity.
All Silfab panels are in line with the industry standard power rating for monocrystalline modules, falling within the range of 350 W and 400 W.
Cell type
Historically, solar panels were made of either monocrystalline or polycrystalline solar cells. Modern solar panels, like those made by Silfab, primarily use monocrystalline cells.
In keeping with industry trends, Silfab employs monocrystalline silicon but also incorporates newer technologies such as half-cut and back contact cells.
Efficiency rating
Silfab solar panels boast impressive efficiency ratings. Both the Elite and Prime products have efficiencies exceeding 20%, earning them a "premium efficiency" label alongside other elite manufacturers.
Power tolerance
Power tolerance indicates the potential power production variation from a solar panel's rated power capacity under Standard Test Conditions (STC).
All of Silfab's panels have a power tolerance rating of -0/+10 W, indicating a minimum operating capacity at its rated power but with the potential for 10 W higher performance.
Temperature coefficient
A solar panel's performance is dependent on its temperature. The higher the temperature, the less power produced.
To gauge the impact of temperature variations, manufacturers provide a temperature coefficient. This coefficient measures the reduction in a solar panel's output for each degree Celsius that the panel's surface exceeds 25°C.
The Elite and Prime panels have standard temperature coefficients: the Elite modules have a temperature coefficient of -0.38%/°C, and the Silfab Prime has a temperature coefficient of -0.36%/°C.
Workmanship warranty
All Silfab's solar panels come with the same workmanship product warranty. The warranty covers repairs, replacements, and refunds for defective materials.
Initially, the panels come with a 12-year warranty from the delivery date, but this can be extended to 25 years if purchased and installed by a registered Silfab installer like 8MSolar.
Power warranty
The power or performance warranty provides homeowners with an estimate of the solar panels' power output over time. As solar panels age, they degrade slightly and generate less power.
According to Silfab's 30-year performance warranty, the panels will operate at 97.1% of their initial power rating after Year 1, with a maximum degradation rate of 0.5% per year thereafter.
By Year 30, the panels have a performance guarantee of 82.6% of their original rated capacity.
Cost of Silfab Solar Panels
To obtain a precise estimate tailored to your residence's specific details, it's recommended to directly contact Silfab for a detailed quote. On average, Silfab's solar panels are priced at approximately $0.70 per watt, even before considering the charges associated with installation. Therefore, if you're contemplating on setting up the standard 6kW system for domestic purposes, just the expenditure on Silfab's panels would be in the ballpark of $4,200.
Understanding the Full Expenses
It's essential to highlight that there are further expenses beyond just the cost of the panels. Remember, we touched upon some of these additional expenditures earlier. The process of setting up your Silfab solar panels involves partnering with a local distributor. This distributor will not only handle the installation but will also provide any supplementary materials essential for a complete setup.
When you incorporate these installation expenses and materials, the cost per watt for Silfab solar panels rises to somewhere between $2.85 and $3.05. Given the previously mentioned average 6kW system, the comprehensive cost, post-installation, for a Silfab setup would be in the range of $17,100 to $18,300.
Potential Savings and Incentives
However, it's also crucial to remember that the above costs don't take into consideration potential financial incentives. Many federal and state jurisdictions offer tax credits or rebates for transitioning to renewable energy sources, which can significantly reduce your overall expenses. If you're eligible for these benefits, the net expenditure could be substantially less. As always, it's recommended to stay informed about the latest incentives in your region and to consult with financial or tax professionals to ensure you're maximizing your savings.
So, while the upfront costs might seem steep, the potential long-term savings, environmental benefits, and possible tax advantages make it an option worth considering for many homeowners.
How it Looks
Beyond their high performance, Silfab panels are aesthetically pleasing. Their design and entirely black coloring make them a sleek and harmonious addition to your roof. They can also be installed low profile, meaning they don't protrude as much as some traditional solar panels.

Are Silfab Solar panels the right choice for your home? If you're considering switching to solar power, Silfab Solar panels are an excellent option. They provide high-quality modules, and the company has a wealth of industry experience.
Looking to Purchase Silfab Solar Panels?
While Silfab's products adhere to industry standards, they are far from ordinary. The company integrates the latest solar cell technology in their panels, ensuring top-tier products.
While researching our Silfab review, the most distinguishing characteristic is its North American roots, with facilities in Ontario, Canada, and Bellingham, Washington. This is a welcome change from many solar panel manufacturers who are based overseas, primarily in China.
Silfab Solar panels are a sound choice for your home's solar power system. If Silfab is right for you and your are looking for solar installer in NC, give 8MSolar a call today, and check out some of the other equipment we carry and install!