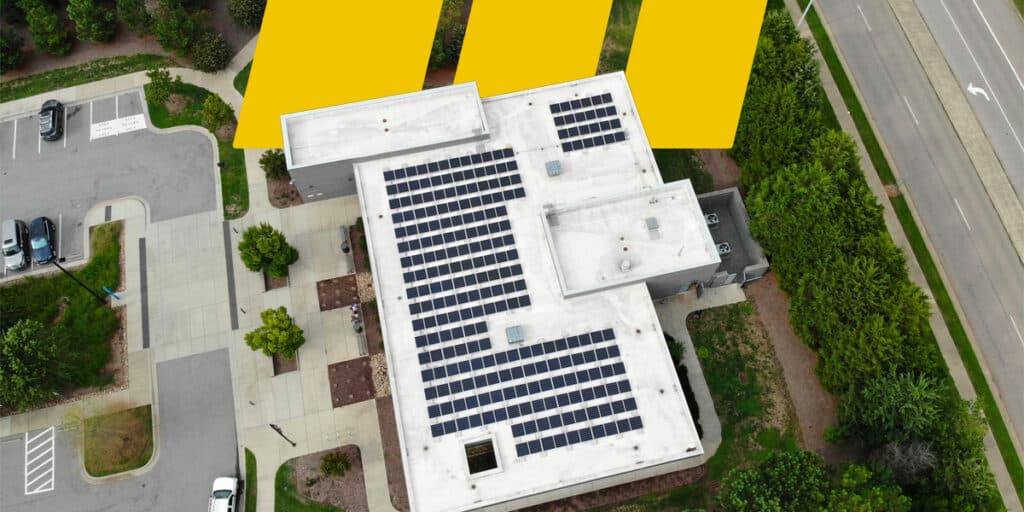 Solar energy is an incredible investment for non-profit organizations. Solar energy allows non-profit organizations to lower electricity costs and allocate more funds toward their causes. It also improves a non-profit's environmental impact, reducing its carbon footprint and helping it gain recognition as a financially-responsible, trustworthy organization.
Fundraising efforts and discounted installation services make solar panels accessible to non-profits. You can switch your organization to solar energy by educating your board and members about its benefits, raising funds for an initial investment and hiring an experienced solar energy company to install top-quality solar panels.
Solar Energy Financial Incentives for Non-Profits
Non-profit organizations can take advantage of the following financial incentives when they invest in solar energy:
Tax credit: A property owner who installs a solar energy system is eligible for a 30% federal tax credit. Non-profit organizations can receive this credit in the form of a direct-pay reimbursement. The Inflation Reduction Act extended this credit, so it applies to organizations that begin solar panel installation before 2033.
Energy savings: Solar energy systems can help non-profits save significantly on their energy bills. Solar energy reduces this cost by utilizing a more affordable, renewable energy resource — the sun.
Increased property value: Installing solar panels can help increase a property's value. If a non-profit organization decides to relocate, it may be able to sell its current building for a higher price when it has a solar energy system.
Advantages of Solar Panels for Non-Profits
Solar panel systems are incredibly beneficial for non-profit organizations. With a solar energy system, you can accomplish the following:
1. Increase Funds for Your Cause
Saving money on energy bills gives you more money to benefit your cause. When you install a solar energy system, you can significantly reduce your electricity bills and increase your funds dedicated to helping others or improving your community.
2. Improve Your Environmental Impact
Solar energy systems help preserve natural resources. Investing in a solar panel system reduces your carbon footprint because the sun is a clean, renewable energy source. Globally, around 25% of greenhouse gas emissions come from electricity production — or the burning of fossil fuels. You can help reduce this number and your organization's carbon footprint by choosing solar.
3. Boost Your Support
Investing in solar energy can increase your organization's support. People increasingly care about organizations that strive to protect the environment and make an effort to reduce their carbon footprints. Even if your non-profit is not environmentally focused, contributing to sustainability in any small way can enhance your reputation. The more positive impacts you make on the environment and your community, the more your community is likely to support your cause.
How Much Money Can Solar Energy Help an Organization Save?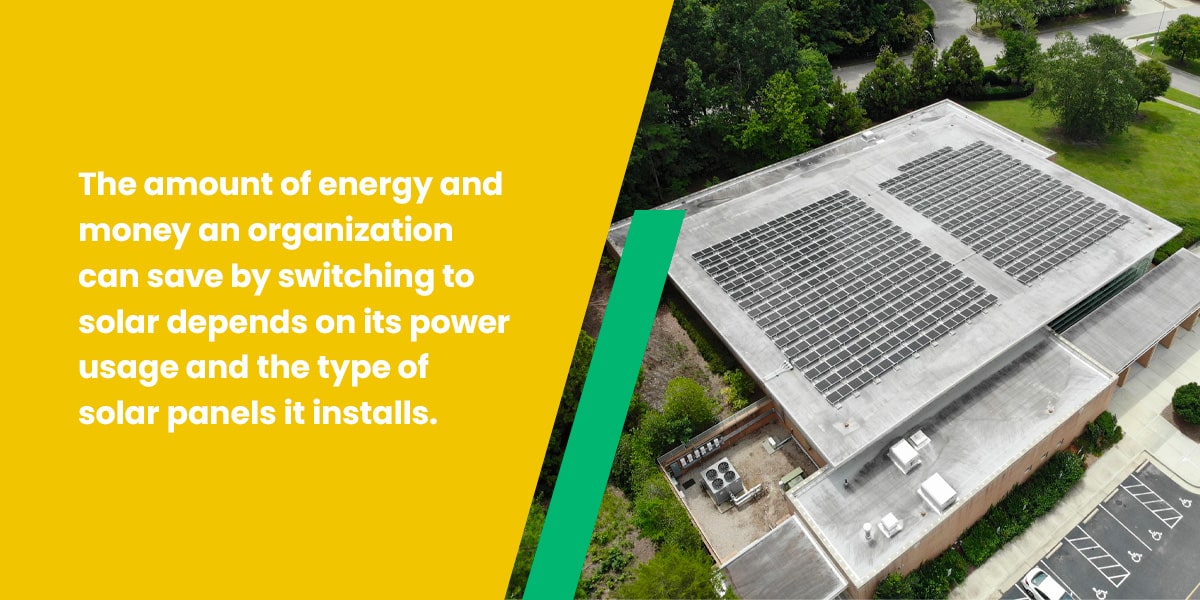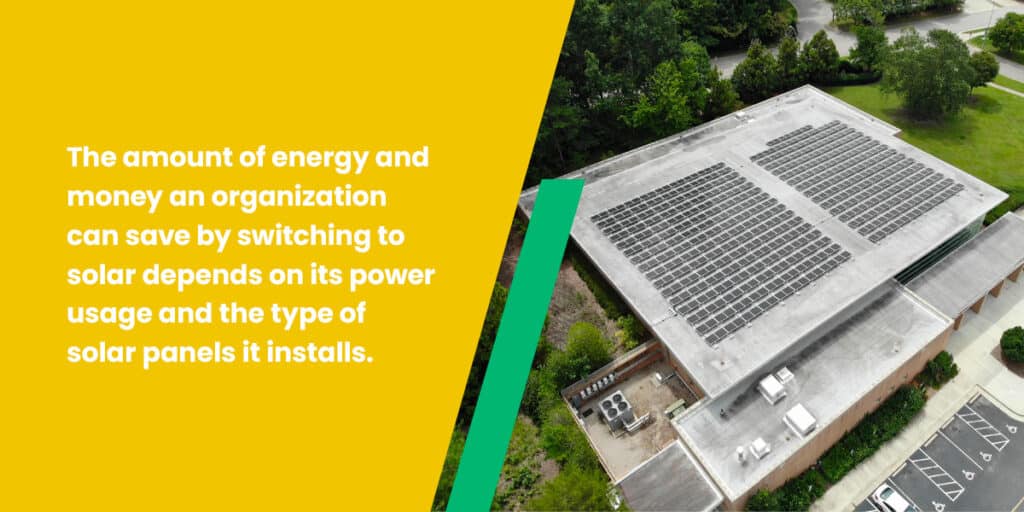 The amount of energy and money an organization can save by switching to solar depends on its power usage and the type of solar panels it installs. The best way to understand how impactful solar energy can be is to look at how it has helped other organizations. For example, our client College Park Baptist Church in Greensboro, North Carolina, installed 70 solar panels and predicts saving $136,007 over the next 25 years.
Does Your Non-Profit Organization's Building Have Space for Solar Panels?
Any organization can implement solar panels on its property. You can schedule solar panel installation on any roof as long as it is in good condition. If your organization's roof is old or in need of repair, you can replace the roof before panel installation or choose to place your panels elsewhere on the property.
Professionals can install solar panels on the ground, allowing you to place a solar energy system in your building's yard. A professional can evaluate your roof and your property to choose the best solar panel system size, layout and location.
How to Invest in a Solar Energy System
Solar panel systems are high-quality, long-lasting systems that help you save money over time, so finding a way to handle the upfront cost is incredibly beneficial. You can implement the following tips to invest in solar energy:
1. Fundraise
Fundraising is an excellent way to purchase a solar energy system. Plan a fundraising event, and let your donors know that you are requesting additional donations now so that you can reduce your spending and place more of your future funds toward your cause.
Raising money for a solar panel system is also a great way to increase community awareness surrounding your organization. Hosting an event or fundraiser to reduce your carbon footprint is a positive way to connect with your followers or community and gain new supporters.
2. Educate Your Board and Supporters
Educating your supporters can kickstart your fundraising efforts and accelerate the process. Presenting exact data shows your desire to switch to solar energy is based on research, and it shows your board and supporters how beneficial a solar panel system is for the environment.
Schedule an on-site visit and allow professional solar panel installers to evaluate your organization's property. A professional solar energy company can determine how many panels you need to meet your power needs and how much a solar energy system can offset your power usage, allowing you to present precise data and benefits.
Your organization's board and followers are more likely to support investing in solar energy when you educate them about the difference it can make. For example, College Park Baptist Church in Greensboro convinced its board and congregation to support a solar energy system investment by informing them that solar panels could offset their energy usage by 84% and benefit the church financially.
3. Take Advantage of Discounted Services
Some solar energy companies offer discounted installation services for non-profit organizations. Taking advantage of these discounts can help you invest in a solar energy system faster by reducing the upfront installation cost and lowering your initial investment.
Switch Your Organization to Solar Power With 8MSolar
Solar energy is incredibly beneficial for non-profit organizations, as it can help organizations reduce their energy bills and allocate more funds toward their causes.
8MSolar is dedicated to installing quality solar panels for properties in North Carolina, and we offer service discounts to make solar accessible for non-profits.
Contact 8MSolar to learn more about solar energy systems and how we can help your non-profit organization switch to solar power.