Overview of LONGi Solar Panels
LONGi Solar is one of the biggest solar product manufacturers globally. They create things like wafers, cells, and panels that make solar energy. They played a part in making solar power more efficient with something called monocrystalline PERC cells. They also make lots of solar panels for homes and businesses that are affordable. In the last three years, they became one of the top companies in solar research and development. Some of their big achievements include making better silicon cells and creating unique HPBC cells. These cells make the LONGi Hi-MO 6 panels one of the most efficient solar panels.
Quick Summary of LONGi Solar Panels
How powerful (Watts) are the panels: 350W – 600W
How good are the panels at turning sunlight into power (Efficiency %): Very High – 20.5% – 23.0%
What kind of technology is used in the cells: P-type HPBC and N-type TOPCon
How much do they cost: Not too expensive ($$$)
Which panel is liked the most: Hi-MO 5m 415W
How long is the warranty: Standard – 15 years
How good is their customer service: Pretty good, rated 3.5 out of 5
Overall, are they recommended: Yes, with four stars (☆☆☆☆)
LONGi Origins
LONGi Solar began in 2000. It's owned by the LONGi Group, which is located in China. They have factories in different places like Malaysia, Vietnam, India, and China. In the past five years, LONGi has grown very quickly. In 2020, it became the biggest solar company in the world because of its market capital and sales revenue. They can make more than 110GW of solar products every year, including over 25GW of panels, 30GW of cells, and more than 55GW of wafers.
LONGi Solar only makes monocrystalline products. They're a big reason why the solar industry started using better monocrystalline cells again. Before, everyone was using polycrystalline cells because they were cheaper. LONGi Solar made new factories and created lots of monocrystalline wafers to help the solar industry use better and cheaper mono-Si wafers and cells.
LONGi Solar's Impressive Cell Efficiency
LONGi Solar not only has a massive capacity for making solar products but also a large team of people who work on researching and developing the best panels. They've set many records for their great solar cell efficiency. Recently, their team achieved something really amazing. They used a special type of cell technology called heterojunction (HJT), and they made a cell that's 26.81% efficient. That's the best anyone has done with silicon solar cells!
HPBC Cell Technology
In November 2022, LONGi introduced a new series of panels called Hi-MO 6. These panels use a super-efficient cell technology called Hybrid Passivated Back Contact (HPBC). With this technology, they made panels that are 22.8% efficient when they're made in large numbers. Before, most panels could only reach efficiency levels above 22% if they used a different kind of cell technology called N-type TOPCon or IBC cells. But LONGi did something special. They matched the efficiency of Sunpower, a company known for making the best solar panels in the world, using a new type of cell design called P-type Hybrid Passivated Back Contact (HPBC). LONGi is the first solar company to do this.
For a long time, other top solar companies like Sunpower and REC used cells based on a different kind of wafer called N-type wafers. But now, LONGi, along with some other Chinese companies like Jinko Solar, are working on new and better cell designs. They're going to make more of these efficient cells to bring down the cost of solar energy.
LONGi Solar Panels
LONGi makes many different types of good-quality solar panels. They have panels for homes, businesses, and really big solar projects. They have two main types called Hi-MO 4 and Hi-MO 5. But in early 2023, they released a new and even better type called Hi-MO 6. Depending on what you need, they have panels with different numbers of cells, like 54, 60, 66, 72, and even more. There's a LONGi solar panel for everyone.
Hi-MO 5 Series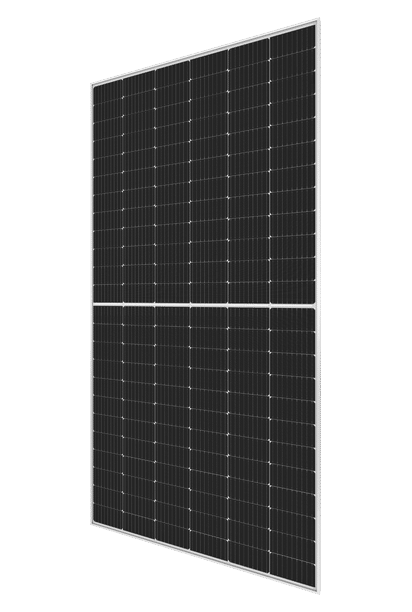 LONGi's Hi-MO 5m panels are made for solar systems on the roofs of houses, while the bigger Hi-MO 5 panels are for businesses and big solar projects. These panels are similar to the previous Hi-MO 4 panels. They use the latest kind of solar cells called monocrystalline PERC cells with multi-busbar (MBB) half-cut cells. The Hi-MO 5 panels use a type of silicon that has a small amount of gallium in it. This makes them lose less power over time. After 25 years, they only lose about 11% to 12% of their power, plus a small 2% in the first year.
Here are the details for the Hi-MO 5 panels:
Monocrystalline PERC gallium-doped silicon cells
Power rating: 400W to 550W
Maximum panel efficiency: 21.3%
Half-cut cells with 9 busbars and smart soldering
Bigger 182mm M10 wafer
12-year product warranty
30-year performance warranty
84.9% power remains after 30 years
Hi-MO 6 Series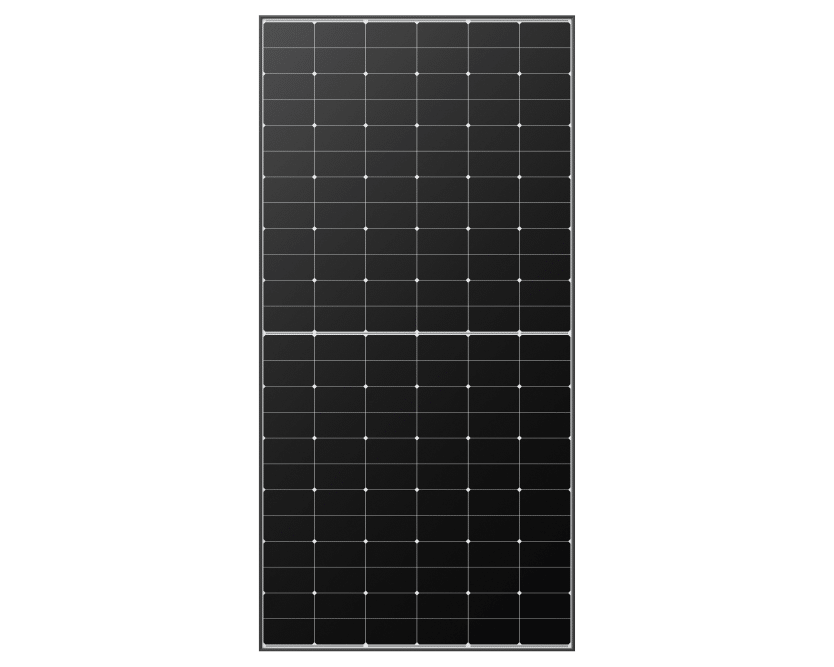 The new Hi-MO 6 series from LONGi Solar is quite impressive. These panels are the first ever to use a special cell design called Hybrid Passivated Back Contact (HPBC). What's unique is that they use a traditional P-type cell instead of the more common N-type cells that most other manufacturers use to make panels more efficient. The HPBC cell design has contacts on the back, so there are no busbars on the front, making them more efficient. They also use clever technology known as rear-side passivation on the back and new back-contact soldering to make them stronger and more durable. This design makes the Hi-MO 6 panels some of the best and most efficient solar panels you can find.
The Hi-MO 6 panels come in four different series, each designed for different uses. They all use the same M10-sized (182mm) HPBC cells and are available in 72C, 66C, 60C, and 54C types.
Explorer Series: Classic design with HPBC cells
Scientists Series: Low degradation, maximum efficiency HPBC cells
Guardian Series: Includes smart panel-level optimizers
Artist Series: Available in various unique colors
Here are the details for the Hi-MO 6 panels:
Monocrystalline HPBC cells
Power rating: 410W to 600W
Maximum panel efficiency: 23.0%
Half-cut cells with HPBC cell technology (MBB)
Large 182mm M10 wafer
15-year product warranty
25-year performance warranty
88.9% power remains after 25 years
Gallium-Doped Silicon for Better Solar Panels
In 2020, LONGi Solar joined forces with Shin-Etsu Chemical Co to make a new kind of solar cell. This cell is special because it uses gallium-doped silicon. It helps reduce light-induced degradation (LID) in regular P-type PERC silicon.
LID is when a solar panel loses a bit of its power during the first few hundred hours of working because of tiny bits of oxygen left during the making of normal Boron-doped silicon. Over the panel's life, the power loss due to LID goes down a lot, to about 0.5% to 0.8% each year, depending on how good the silicon is.
Most solar panel makers use boron-doped P-type silicon wafers, and after 25 years, their panels still have about 82% to 83% of their original power. But with gallium-doped silicon, LONGi can bring the LID effects down to just 2% in the first year and less than 0.5% each year after that. This means the panels can keep around 85% of their original power even after 30 years.
Smart Soldering Technology for Better Connections
Many companies use something called multi busbar (MBB) technology to make solar panels more efficient by reducing the gaps between cells and increasing the surface area. LONGi Solar took this a step further with their "Smart Soldering technology." They use a unique triangular-shaped micro busbar with flat ends to connect cells and make them work better.
This triangular ribbon makes sure the cells catch more sunlight on the front side and connect to each other better with a tiny 0.6mm gap. Testing has shown that this Smart Soldering technology can boost efficiency by 0.3% compared to the usual MBB technology. It helps panels generate more electricity from the sun.
The Bottom Line
LONGi Solar has become one of the world's biggest solar manufacturers and a leader in creating new and better solar cell technologies. They have a big capacity to make solar products, which not only makes solar energy cheaper but also results in cost-effective solar panels for homes and businesses. In a nutshell, LONGi Solar panels are a dependable and reasonably priced choice for those seeking solar panels with advanced cells and improved long-term performance.
LONGi has recently broken records and introduced new cell technologies like Gallium-doped silicon, smart soldering, and impressive HPBC cells. These achievements have positioned LONGi as one of the top innovators in solar technology. Their latest release, the Hi-MO 6 series of panels, promises even more exciting innovations. We look forward to seeing what other creative ideas and processes LONGi comes up with in the next few years to make solar energy better and more reliable.
Let 8MSolar Be Your Solar Guide
Looking to set up your own solar energy system? Let 8MSolar help you further understand the complex world of solar energy and find the best fit for your project. Our team has over 20 years of experience, and we're ready to help build your dream solar system. Get a quote today.