Solar energy storage solutions like solar batteries allow your home to remain powered during the night, overcast days, or sudden grid failures by capturing surplus energy generated by your solar panels. This Tesla Powerwall overview details how harnessing this stored energy can cut down on your electricity expenses, particularly if you don't have the benefit of a net metering system or if your electricity provider charges more during peak usage times.
In 2015, Tesla launched its renowned solar battery, the Tesla Powerwall, which has since gained a reputation as a top-tier choice for residential solar energy systems. To assess whether the Powerwall deserves this status, our team at 8MSolar embarked on a comprehensive examination of the solar battery, exploring its historical evolution, efficiency in performance, technological advancements, and cost considerations.
Tesla Powerwall Specifications
Tesla's solar battery lineup consists of two models: the Tesla Powerwall 2 and the Powerwall+. Here's a comparison of the two: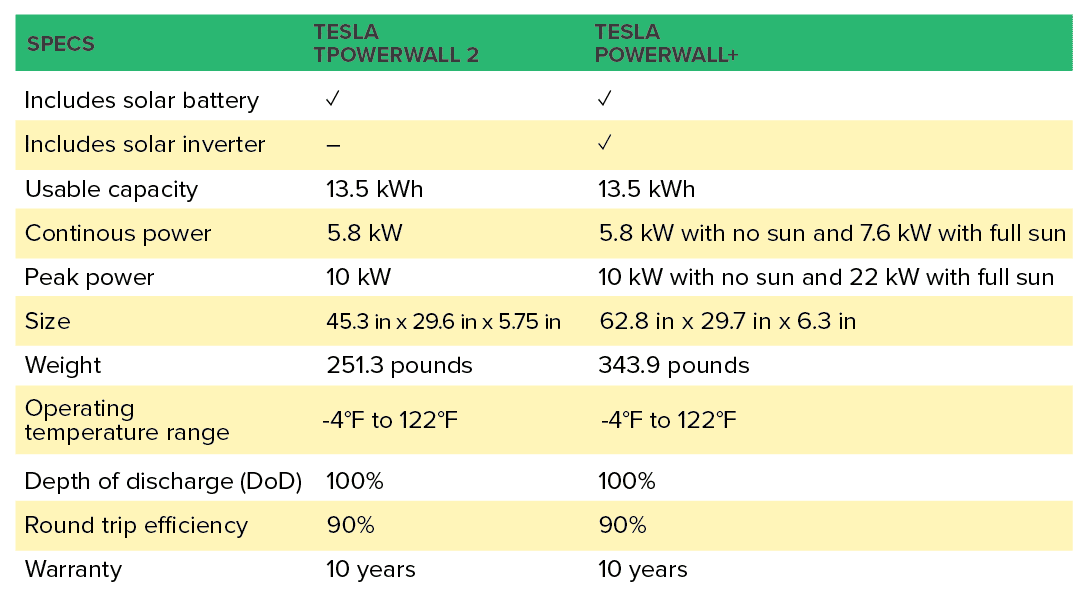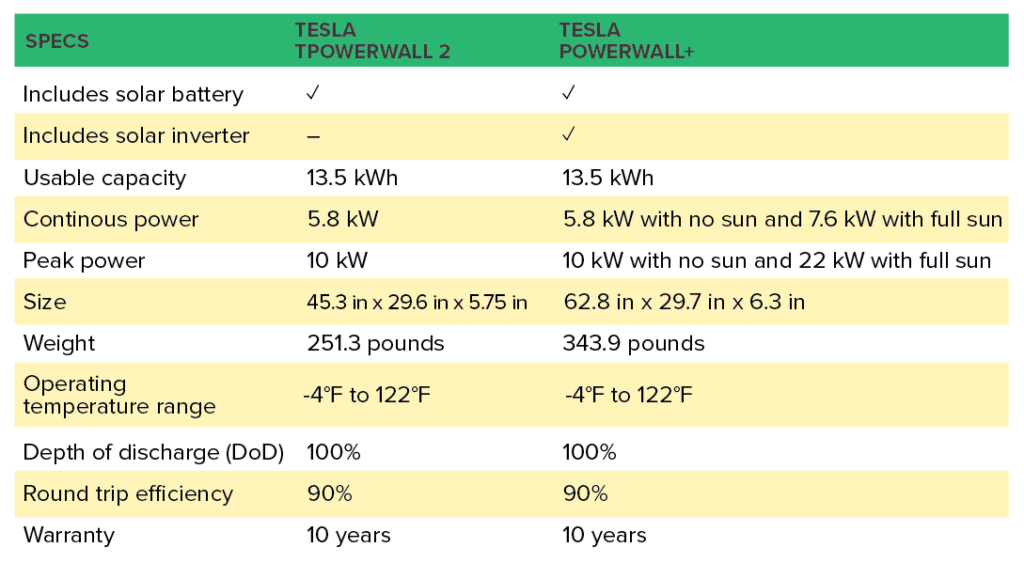 Considerations of the Tesla Powerwall
Integration with both new and pre-existing solar panel installations
Assures 70% storage capacity retention at the closure of the 10-year warranty period
Tesla App provides access to monitor and fine-tune the system
Boasts a greater capacity compared to many contemporary solar batteries
Installation requires a Tesla Certified Installer
Each product only available in one size
Tesla Powerwall Availability
Across all states except Alaska, Tesla's certified professionals, like 8MSolar, can install Powerwalls across all U.S. states. 8MSolar can only provide installation in North Carolina.
Steps to Install a Tesla Powerwall:
Finding a Certified Installer: Utilize Tesla's online tool to locate an authorized installer near you.
Site Evaluation: A solar expert performs an analysis to determine the best Powerwall configuration and quantity for your residence.
Order Placement: You can either order directly from Tesla's site or via the installer. If you're using a solar company, the order process is usually handled by them.
Installation: The team mounts the Powerwall(s), installs required electrical apparatus, and connects the units to your home's electric system.
Testing and Activation: Post-installation, Tesla conducts rigorous tests and initiates your Powerwall system, ensuring proper functioning, including during power outages.
Monitoring and Upkeep: After installation, Tesla oversees performance, offering software updates to ensure peak efficiency.
Major solar panel providers like 8MSolar offer Powerwall installation. Tesla encourages potential buyers to consult with an installer before purchasing online.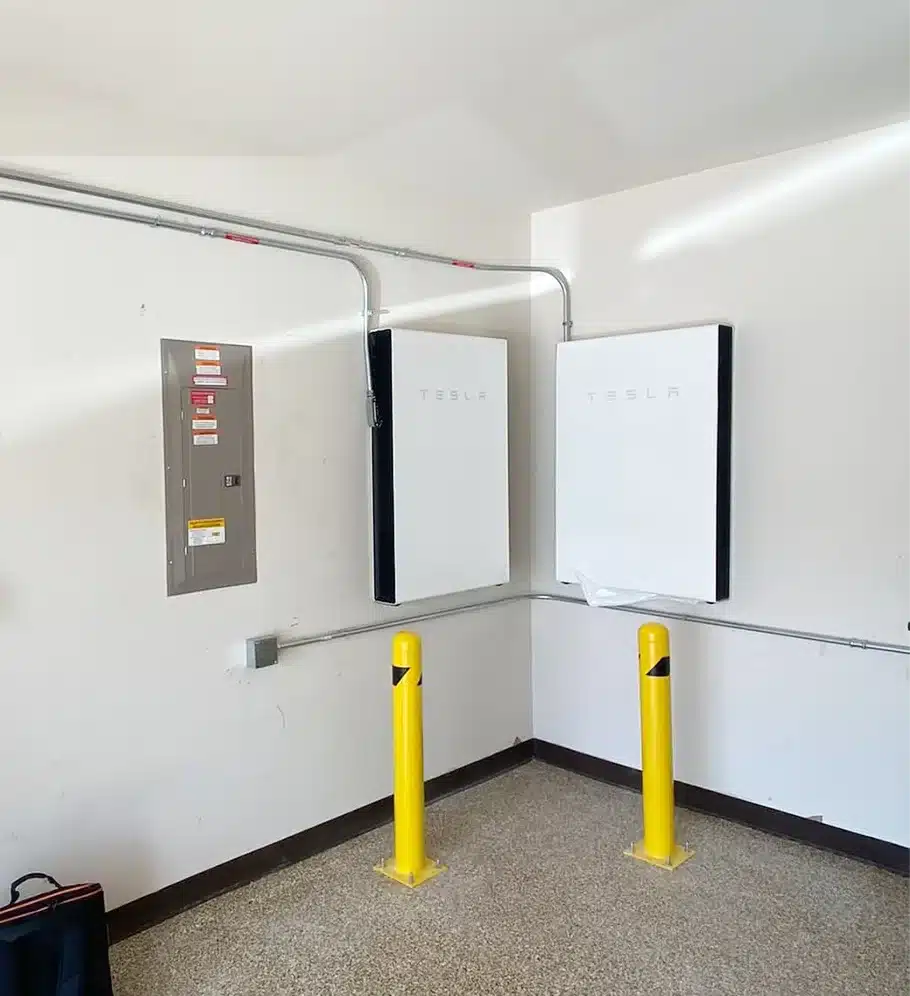 Tesla Powerwall Warranty
Tesla's warranty includes a 10-year product coverage and a four-year workmanship warranty for labor and shipping. The 10-year warranty guarantees unlimited charging and discharging cycles, with a 70% capacity maintenance over the period.
Tesla Powerwall Cost Structure
Starting at $11,500 (including installation) or $9,200 (without), the Powerwall cost can be offset with bulk-purchase discounts and incentives like federal solar tax credits. Tesla also extends loan financing options.
Customer Reviews and Ratings
Rating: 4.3/5
Customers appreciate the sleek design and cost-saving benefits, but some report dissatisfaction with customer service communication.
Features of Tesla Powerwall Batteries
Both Powerwall models have a unique set of features, but share similarities in aspects like size, weight, and capacity. These include a 13.5 kWh energy capacity, 90% round-trip efficiency, and a built-in solar inverter in Powerwall+.
Battery Chemistry
These lithium nickel manganese cobalt oxide (NMC) batteries are popular for their longevity, higher power density, and ability to withstand temperatures between -4°F and 122°F.
Capacity Considerations With 13.5 kWh storage, a typical house requires at least two Powerwalls to go off-grid. Up to 10 Powerwalls can be integrated into one system.
Tesla Powerwall Performance Metrics
Our analysis revealed impressive standards in functionality, efficiency, and ease of use, with 5.8 kW continuous power, 100% Depth of Discharge (DoD), and 90% round-trip efficiency. It also features various operating modes, such as self-consumption, time-based control, or backup only, allowing for customized usage.
The Powerwall system pairs with a dedicated app and Powerwall Gateway 2, allowing for real-time monitoring and automatic system checks, either indoors or outdoors.
What Are You Waiting For?
The Tesla Solar Powerwall ranks among the best solar batteries for homeowners. Though priced higher, its extensive capacity and innovative features make it an appealing option for those seeking energy independence. The Powerwall's ability to provide energy security during unexpected outages or reduce electricity bills adds to its allure.
For an informed decision, it's advisable to compare the Powerwall with other solar storage alternatives, considering factors like storage capacity, functionality, efficiency, and warranty coverage.
Learn more about the equipment 8MSolar has to offer to ensure you have the best products to fit your solar needs. If a Tesla Powerwall makes sense for you and your are looking for a solar installer in North Carolina, give 8MSolar a call.