Have you ever experienced that unsettling feeling when a power cut plunges you into darkness? We've all had those moments. Now, envision having a dependable companion on standby, primed to bring brightness in an instant. Introducing the Panasonic Evervolt Solar Battery, the newest member of your energy circle. Created in 2019 by the battery behemoth, Panasonic, Evervolt isn't merely a battery – it's a game-changer.
With its versatile AC and DC connections, this system ensures you remain powered up, even if the main grid fancies a snooze. What about if it is combined with solar panels? That's an energy dynamo you've assembled. How does Evervolt compare to its rivals, you wonder? Stay with us as we go into the solar battery realm.
Panasonic's Journey into Solar Power
From its inception to its giant strides in the energy sector, Panasonic's voyage is truly commendable. Their purpose? Brighten our world while giving the planet some respite. And, they've truly delivered. Their innovations in solar batteries prove their commitment to action, not just words.
Enter the Panasonic solar battery, especially the Evervolt. It's their vision of a cleaner future, and it's drawing attention in the solar sector. With Panasonic's Evervolt, the horizon seems brighter. Ready to step into this future with Panasonic?
Diving Deeper into Panasonic Evervolt Energy System
An energy storage system sounds complex, doesn't it? Picture a colossal rechargeable battery, sun-charged, and primed to fuel your house when needed. That's the essence of an energy storage system.
However, note that not all storage systems are top-tier. Evervolt is Panasonic's crown jewel in this category. More than just a product, Evervolt is a trendsetter. Its sleek design means it integrates smoothly into homes. But beneath its elegance lies pure power.
EverVolt has four unique versions, including two AC models and two DC ones. They're modular, so they can be merged to form potent battery systems. The best part? Evervolt can synchronize with solar panels, creating a cost-saving, power-packed duo.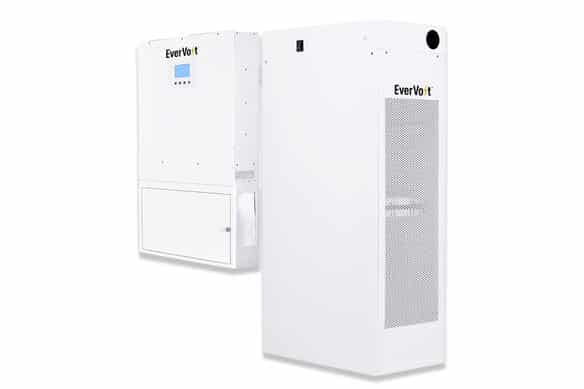 Diving into Evervolt's Performance
EverVolt's performance stats are impressive. It's not only adept at storing energy but also manages it efficiently. This isn't merely about raw strength; it's about smart energy.
For a better comparison with its counterparts, consider power and usable capacity. The more expansive EverVolt Plus has a power capacity of 5.5 kW and usable capacity of 17.1 kWh, while the standard model offers 4.6 kW and 11.4 kWh, respectively.
For EverVolt, efficiency means doing more with less, maximizing every energy unit. Efficiency isn't just a catchphrase for EverVolt – it's their core principle.
| | | |
| --- | --- | --- |
| Model | EverVolt Standard | EverVolt Plus |
| Usable capacity | 11.4 kWh | 17.1 kWh |
| Continuous power rating | 4.6 kW | 5.5 kW |
| Round trip efficiency | 86%/90%* | 86%/90%* |
| Avg. backup duration | 6 hours | 9 hours |
Pricing and Where to Find It
What's the cost of Panasonic EverVolt? Installation prices vary based on your home setup. It could be between $15,000 to $20,000, with variations based on the model type. Yet, with a proficient installer like you could save money.
Planning to pair EverVolt with solar panels? Remember, the battery is just one component. A 5 kW solar system's price can fluctuate between $9,000 to $15,000, contingent on your location and equipment choice.
Does that sound? Think long-term. Investing in solar-plus-storage can yield significant savings over time. Whether EverVolt is your perfect match hinges on your utility pricing and your reasons for choosing solar storage.
Let 8MSolar Help You Decide
Panasonic's website is a good starting point for making decisions. It's also accessible via Panasonic-certified solar firms. Integrating energy storage isn't trivial. It needs expertise, certifications, and a thorough grasp of the solar-plus-storage setup process. If you are struggling with what solar battery or solar panels to choose, give the best North Carolina solar installers at 8MSolar a call.